Naked Sword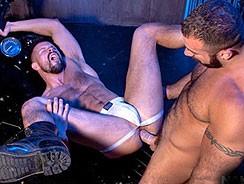 JUB Site Rating:
1 total vote





Naked Sword's Billing & Pricing
Naked Sword's primary billing processor: In House
$15.20 for a 14 day trial, recurs at $24.21 per month
$27.67 monthly recurring
$34.60 for one month non-recurring
$69.23 quarterly, recurring
$173.12 annually, recurring
VISIT Naked Sword NOW!


You've got a large collection, and a varied one, with some exclusive content and a load of non-exclusive movies as well. This means you've got all kinds of top studios and stars in play, with companies like Bel Ami, Falcon and Colt in the list with several other famous names. In the exclusive collection you've got Golden Gate, an on-going, character driven sex opera you might call it, plus other on-going titles in a selection of series. The variety of all the other studios means that you're going to find all kinds of guys, from your smooth Czech jocks to all American heroes, bears and beefy hunks.

So, there is going to be something in here to suit everyone and no one should go away disappointed. Actually, if you want to see what you are going to get then you will find the tour very generous, it shows you everything you can expect to find inside, plus trailers. You will, though, have to watch out for what you can see as included in your membership and what you can see only if you pay extra. When you are at the home page you have an image slider showing you shots from recent additions and above this are tabs to take you to rentals and membership movies with the promise that there are eight movies added every day. Mind you, elsewhere I saw that it said there was a new movie every week, so that confused me slightly. I was also trying to find a way of counting exactly how many titles there were, but could only find categories, and not a full list.

You must also expect not to be able to download all of these movies. Most of what I found was streaming only, in Flash or Silverlight. But you do have an 'add to favourites' function so you can create your own stock of the best scenes and then find and play them again easily when you want to. The movies come with some basic info like which studio they are from, and what 'themes' they are. These themes are linked to you can click a word and find all the featured movies that are connected by that keyword. Some titles also have longer descriptions than others, but each of them comes with a set of scrolling sample images per scene. If you find, when signed in, that you can only see previews, then that's because you are looking at a movie that is only for rent. I'd have hoped to have got more movies included in my membership, a lot of what I wanted to see I had to pay extra for. (You can tell which ones when browsing as they have an hour glass on them.) I guess I could say that I'd have liked a lot of things, like a model index, and an easier way of finding titles that were included, but actually you soon get used to the way it works here, and there is a search function if you want to look for your favourite model by name.

Bottom Line:
But, all said and done, you've got a great collection of old and new titles from top studios and some lesser known ones, and some neat foreign films, plus all kinds of guys from twinks upwards. Good value? Yes, but get a long membership as you are going to need lots of time to view everything that's on offer.
VISIT Naked Sword NOW!
VISIT Naked Sword NOW!