Kink On Demand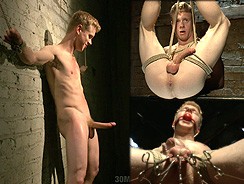 JUB Site Rating:
0 total vote





Updated: 2014-11-06
Primary Categories: Multi Site Networks
Secondary Categories: Amateur, Asian, Bareback, Bears, Big Muscles, Bisexual, Bondage, Erotic Massages Handjobs, Euro Guys, Fetish, Gay Hunks, Gay Porn Stars, Glory Holes, Group Sex, Hardcore, High Definition, Humiliation And Torture, Intergenerational Gay Older And Younger, Interracial, Live Cams, Mature And Older, Outdoors Public Places, Straight Men, Tattoos Inked, Uniforms, Video Downloads, Video On Demand, Younger
45 Galleries
508 Videos
Kink On Demand's Billing & Pricing
Kink On Demand's primary billing processor: In House
20 Kinks for $19.99
42 Kinks for $39.99
75 Kinks for $69.99
178 Kinks for $159.99
VISIT Kink On Demand NOW!
Straight or gay, Kink cater for both. Let's go gay today shall we and have a look at Kink On Demand. As soon as you open the site you get the choice of which way you want to swing, and swinging in to the gay section you then learn that you can sign up for free. This is a place where you buy time to spend with your movies, or rather you buy movies to watch using your Kinks, your tokens.
The content you can access is that which is exclusive to the company and which comes from their gay hardcore and fetish sites: Kink Men (test shots), Men On Edge, Bound Gods, Bound In Public, Butt Machine Boys, Male Wank, Naked Kombat and the new site, 30 Minutes Of Torment. I could go into rave reviewing mode about each of those sites, but you can check their own reviews separately as there's not the space here to tell you all the details, but what you need to know is what they cover.
A lot of kinky stuff! Of course they do and that kinky stuff includes wrestling bouts where the winner gets to top the looser, there's guys bound in public places and used and abused by passing gay guys and other models, there's slings and fisting and torture chambers, and all manner of BDSM, plus dildo machines and guys jerking off. And Kink guys are usually big and muscled and beefy and know exactly what they are doing when it comes to raw man sex. So, expect a lot of hardcore here. And expect to pay for it too.
You will see the recent updates on the home page and there's also a side bar where you can find the sites and their content or where you can find the straight and TS content if you want to. Click a movie you want to see and there you will get a free one minute or so trailer. You can then opt to stream and when you click that link you find a pop-up box offering you the chance to subscribe to the site the movie comes from, or to buy the scene with your Kinks. I found scenes at 13.33, 16.99, 13.31, 15.10, all different prices. With the basic 20 Kinks costing you $19.99 you can expect to get, roughly speaking, around one and a half movies, so you are going to need to go for the full package. If you spend $159.99 you get 178 Kinks, making each token $0.89, so a 14 Kink scene will cost you around $12.50 (if I got my math right), making these scenes not the cheapest in the PPV world.
But that's because they are often HD (1,280 x 720 @ 5,000), exclusive and made solely for the Kink sites. This On Demand theatre may be a good way of letting you test drive some of their movies after which you can then go and sign up for the site you like the look of. Or it may simply be a way of letting you enjoy some of the heavier fetish gay porn on the market and see what you think. Either way, it's very easy to arrange and view, and you get all the other added attractions that come with the Kink sites. And here I am talking about the hunky guys who know their stuff, the interviews, some neat images (which you also have to pay for) and the interactive chat options, blog and forum. And, being Kink, it's all excellent quality and you get great customer care.
Bottom Line:
Sometimes if you want the best you have to pay for it and that's the case here. I wouldn't mind paying for a Kink movie so I'm OK, but this is not the cheapest PPV theatre I've seen. That's because the quality is outstanding, the fetish action is steaming hot and right on target and the content is exclusive to Kink, probably the best gay (and straight) fetish porn company in the world.
Tags:
Hardcore, Fetish, Sling, Fisting, Anal, BDSM, S&M, Extreme, Torture, VOD, All Gay Fetish, Straight Sex, humiliation porn
High Definition Yes
DRM Free Porn No
Downloadable No
Content Format Videos, Galleries
Live Shows No
Bonus Content No
Multiple Site Hub Yes
Content Updated Daily
Safe Sex Notice:
This gallery contains images of unsafe sex practices, also known as barebacking. Engaging in sexual practices without the use of a condom is a risky and unnecessary behavior. There are a lot of studios including the one listed on this page that film bareback or have bareback scenes in their content libraries. The images presented below should only be used for fantasy and you should not deceive yourself into thinking that "everyone is doing it." Further, you should not assume that just because you see photos or film content of barebacking that sexually transmitted diseases have been miraculously cured. HIV and other sexually transmitted diseases are very real and potentially lethal. Please practice safe sex in your own life and educate yourself regarding the dangers of not wearing a condom before having sexual encounters. Visit AMFAR for more information about safer sex.
VISIT Kink On Demand NOW!
VISIT Kink On Demand NOW!