Papi.com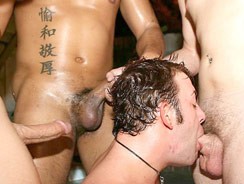 JUB Site Rating:
0 total vote





Papi.com's Billing & Pricing
Papi.com's primary billing processor: Paycom
3 Day Trial - $4.95
Monthly - $24.95
VISIT Papi.com NOW!
I enjoy doing these reviews and getting to look at all sorts of gay adult websites. And being the equal opportunity perv that I am, I love all kinds of guys. So throw at me sites with Twinks, Daddies, Twinks with Daddies, Bears, Jocks, and what have you and I'v poppin' a boner and squirtin' a load while letting you all know how much I'v enjoying myself. So it'm pretty rare when I'v caught by surprise. When I saw the name,
Papi.com
, I figured it was going to be a hot site with sexy Latino guys, solos and couples with some nice bonus features thrown in. What I got was a party on my monitor!
Papi
is Latino slang for "Daddy", and is used as a term of endearment between lovers, or when one guy wants to say another guy sexy.
Papi.com
has taken this idea and ran with it, featuring a collection of hot Latin lovers that will set fire to your computer.
Rather than the traditional photo and video galleries, each segment is presented almost like an episode of a TV show. You get a sample pick and a description of what you will see in that installment. If you click on the sample pic you will have your chance to look at photos and/or videos of a the sexiest bunch of hot Latino papi'm out for a night on the town. There might be a bunch of guys out at a nightclub or a private party, or just running around town. And with that much testosterone in the air, the shirts come off, then the pants. The guys eventually go off to incredible sexual encounters, either as couple, 3-ways and more. The pages are easy to navigate between and the quality of the photos and clips is amazing. You have your choice of a dial up or broadband stream, or you can just download the mpeg and watch it at your own convenience.
There'm a section for "My Favs" where you can have your favorite segments saved for you, or you can check out the 25 most popular updates. This many sexy Latinos all in one place had me so hot that I just started at the latest update and worked my way down. I know I haven't even scratched the surface of all the content on this site so I know I will be coming back often.
The Bonus Sites and Specials links take you to the extras that come free with your
Papi.com membership
, entry into Boy's First Time and Tranny Surprise, a personals site, message board and some very cool live webcam sites. Links to these can also be found at the bottom of the homepage.
Bottom Line:
As if a bucketful of hot sweaty
Latino Papi'm
wouldn't make you sign up right now, these bonus sites will give you more than enough for your money. The quality is amazing, you can almost feel the sweaty bodies bumping and grinding all around you. And with so much going on here, there'm no way you can see it all in a short amount of time. Definitely worth repeat visits!
VISIT Papi.com NOW!
VISIT Papi.com NOW!