30 Minutes Of Torment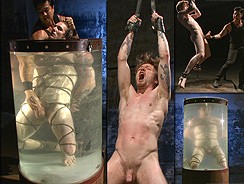 JUB Site Rating:
0 total vote





30 Minutes Of Torment's Billing & Pricing
30 Minutes Of Torment's primary billing processor: In House
$34.95 per month (recurring)
$69.95 for three months, recurring
$117.95 for six months, recurring
$169.95 for one year non-recurring
VISIT 30 Minutes Of Torment NOW!


Starting off at a home page that's packed with images and updates, you soon realise that you have hit on something special. What this site is about is right there in your face: hunky guys, handsome and masculine, tied up, being driven to the limits by pegs and hot wax, ropes and bondage, being edged, being immersed in tanks of water, helpless at the hands of their masters, and getting off on the pain. What's really good about Kink movies, apart from many other things, is that they interview the models before and after. You will soon realise that this is fully consenting, experimental sometimes, and willing participation porn where the guys like to push themselves to their limits. It's not for the squeamish. It's for true fetish fans.

And also being Kink you get excellent quality, as you do with all of their sites. You will find HD movies for streaming up at 1,280 x 720 @ 5,000 kbps, with three other options too, lower ones. There are also download for WMV and iPads and other devices, with small, medium and large options, and there are trailers with each film as well as galleries of high quality pics. Movies run for up to an hour, including the interviews, so you get plenty to watch and a new one is being added every week.
So, not only is the fetish action of the highest calibre, not only are the formats good and HD and also available in other resolutions, but you also get perfect filming, sound and lighting, with excellent sets and atmosphere.

Things get better if, like me, you like to get involved. You can join in the discussion and add your own comments on the viewing pages and your membership comes with access to the Kink forum as well. There is a drop-down list of bonus sites but the join page here didn't mention access to any other bonuses. Having said that, I was able to access them and the Kink Live Shows, so you may need to check that out when you are inside. It may be possible to upgrade your membership through the Kinky Deals page of links to their other sites.

But what you can do is apply to be a model; if you can stand the heat. There is an area where you can apply to do this and the money you can earn is set out there. The site also comes with a link to a store and there's a search engine though at the moment you won't have any trouble finding the content as there are only five index pages. This is not a huge site and the sign up price is pretty high for a new one, but that's because it is extreme and exclusive porn, it's brilliantly made and you are looking at a top class, world class provider of gay fetish hardcore.

Bottom Line:
On the one hand 30 Minutes Of Torment might be considered a little bit costly as it only has 30 scenes, but there is a new one uploaded every week, the scenes are around 40 to 60 minutes in length and they are exclusive. They are also some of the most extreme gay fetish you can imagine and will be a blow-away for all fetishists. The quality is excellent and you get a great service from a top company.



Tags:
Hardcore, Gay Fetish, BDSM, Torture, S&M, Leather, Wax, Bondage, Pain, Best Humiliation Porn, Kinky Men,



High Definition Yes
DRM Free Porn Yes
Downloadable Yes
Content Format Movies with galleries, forum
Live Shows No
Bonus Content No
Multiple Site Hub No
Content Updated Weekly
VISIT 30 Minutes Of Torment NOW!
VISIT 30 Minutes Of Torment NOW!