Debt Dandy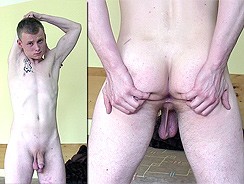 JUB Site Rating:
0 total vote





Updated: 2014-06-11
Primary Categories: Straight Men
Secondary Categories: Amateur, Bareback, College Men, Euro Guys, Gay Hunks, Hardcore, High Definition, Humiliation And Torture, Intergenerational Gay Older And Younger, Multi Site Networks, Outdoors Public Places, Video Downloads
163 Galleries
271 Videos
Debt Dandy's Billing & Pricing
Debt Dandy's primary billing processor: Ccbill
$29.95 per month, recurring
$79.95 for three months, non-recurring
VISIT Debt Dandy NOW!
In the early days of reality porn you'd get sites that had no trouble convincing us that what we were seeing was real: American guys who were broke and who agreed to jerk off on camera for some cash. Then came the Russian invasion and we got guys having sex and only the written promise from the site that yes, they really are straight but doing it for cash, and the whole genre kind of fell apart a bit. The better gay-for-pay sites have survived and many have tried to imitate them and failed. And now comes a new generation of reality gay-for-pay site and Debt Dandy is one of them. I have this sneaking suspicion that this is going to fast become a classic.
It's set in Prague, as a lot of very hot new sites are these days, and it has a simple premise. 40% of single, young guys in the city are in debt, they say. So, they place an advert and say 'we'll pay off your debts if you will do something for us' or something like that. Guys apply, and only the cutest, most natural and best looking ones are chosen, or so it would seem from the horny guys appearing in these exclusive scenes. These guys get a visit, the interviewer comes with his camera, and the guys get interviewed. There are subtitles for those that don't speak Czech.
From then on things unfold nicely, though some of the guys put up genuine struggles against the idea of stripping off for the camera and it can take a while before we get to see naked Czech flesh. But we invariably do and it is all well filmed. From then on the guys strip, and get massaged, sometimes they get hard quickly and play with themselves, other times they get blown. There are some scenes which incorporate feet play and plenty of anal, with a lot of the guys taking dick for their first time, there is even some cross-dressing and other mild fetish fun too. There is a nice variety of guys too, though we are looking mainly at the 18 to 25 age range here. They are not your classic twinks though, they are amateur, ordinary (but hot) looking guys and so we get a variety of cocks and virgin asses to savour as well.
Technically speaking, you shouldn't have any troubles here. You enter to the main BIGSTR home page where you find access to Debt Dandy and also to Czech Hunter (another great site with reality footage and hot amateur boys) and then you can either view all movies (171 of them) or the Debt Dandy ones alone (32). You see sample shots and when you place your pointer over them they change to run you through shots from the scene, to give you an idea. Click to find the viewing page and there you have a stream and a download to choose from. Streams were a nice size and buffered fast on a mid-range connection, downloads were in MP4 format and scenes ran for around 50 minutes including the nice slow build up and hardcore follow-on. Quality is fine though the download files were really for mobiles and at at 640 x 360 @ 1,286 kbps.
There are links to previous and next scenes for easy navigation, you can enter 'cinema mode' and dim your screen, there are descriptions and pics with slideshows to check out as well, plus links to the required software if you need it. The site is new so it's hard to say when updates will happen, but I have no doubt that these will be regular.
Bottom Line:
An excellent new site from the makers of Czech Hunter and access to that site is also included. You've got exclusive movies and pics with horny young Czech amateurs going gay often for the first time in order to have their debts paid off. Viewing is a bit limited to one choice per download, but the quality is excellent as is the choice of 'victims.'
Tags:
Czech, Reality, Twinks, Straight, Exclusive, Amateur, Hardcore, Bareback, European Hunks, Gay for pay, Daddy Fucking Boys, Big Dicks, High Definition, Sex Public Places, First Time Gays, Hung Men POV, Pay Rent with Sex
High Definition No.
DRM Free Porn Yes
Downloadable Yes
Content Format Videos with galleries
Live Shows No
Bonus Content One bonus site
Multiple Site Hub No
Content Updated Too soon to tell (probably weekly)
Safe Sex Notice:
This gallery contains images of unsafe sex practices, also known as barebacking. Engaging in sexual practices without the use of a condom is a risky and unnecessary behavior. There are a lot of studios including the one listed on this page that film bareback or have bareback scenes in their content libraries. The images presented below should only be used for fantasy and you should not deceive yourself into thinking that "everyone is doing it." Further, you should not assume that just because you see photos or film content of barebacking that sexually transmitted diseases have been miraculously cured. HIV and other sexually transmitted diseases are very real and potentially lethal. Please practice safe sex in your own life and educate yourself regarding the dangers of not wearing a condom before having sexual encounters. Visit AMFAR for more information about safer sex.
VISIT Debt Dandy NOW!
VISIT Debt Dandy NOW!