Raunchy Twinks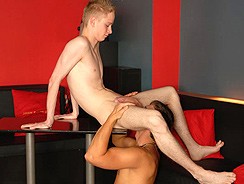 JUB Site Rating:
0 total vote





Raunchy Twinks's Billing & Pricing
Raunchy Twinks's primary billing processor: In House
1.00 for one day trial
21.95 for one month
43.65 for three months
65.95 for six months
VISIT Raunchy Twinks NOW!


Once you have signed up and find yourself inside, you discover that the members' area runs on a tried and tested template system by which I mean it's a design I've seen on many other sites before and one that works well. The first thing to check out is the very top menu where you can switch to the mobile version of the site and where you can see the calendar or updates. When I was looking at the site it showed me what had been added recently but not what was coming soon, but there had been an update every day for the previous week and during the previous month. So, I can assume from that that there will be a new gallery or video every day.

When I was checking these Raunchy Twinks out I found around 380 videos and the same amount of photos, though some of these may be screen cap galleries. Checking out the recent videos you find that each one comes with some good viewing options. You get full scenes here and you can stream or download the videos in parts too. I found 3Gp files for the mobile, MP4 in decent quality and WMV files too, with resolutions up to 960 x 720 @ 3,000 where the quality was just fine. File sizes were not a great issue but I did find the download speed a bit slow. It may have been my connection having a bad day. These look to be DVD quality movies taken from various studios though many are European; you can tell that from the speaking which is often not in English and which comes without subtitles. But actions speak louder than words and these boys get up to all kinds of things.

You have a category drop-down list on your pages and linked tag words with videos and these give you an idea of what to expect: doggy style, blow jobs, muscle, daddy, big cocks, teens, twink of course, and all kinds of other hot stuff takes place. You've got scenes with twinks together, threesomes and parties and also some with twinks and dads. There is plenty of variety and each scene is shown on the index pages with a sample shot so you can get a rough idea from the as well. Movies run for various lengths of time and galleries hold various numbers of images.

Some movies come with screen caps and galleries in in his case I found gallery photos to be at 597 x 900 and screen caps at 780 x 586, both versions of the scene in pics were reasonable quality and there are slideshows you can run to watch hands free. Your members' area also comes with a link to 'HD Tube' which you will find in the main menu. This brought me to a page where there was what looked like a feed site plug in with over 1,100 scenes to stream. There were various categories here so we got off the theme of twinks and moved around all over the place. Not complaining though! It's another plus point for Raunchy Twinks and adds to your value for money.

Bottom Line:
OK, so the content may not be exclusive here but there is a lot of it, the quality is fine, there are galleries, caps, interactive functions, basic information and a large amount of bonuses. It all works well and looks fine and you get a lot of varied twink hardcore for your buck.


Tags:
Twinks, hardcore, teens, dads, movies, anal, blow jobs, fucking

High Definition Some
DRM Free Porn Yes
Downloadable Yes
Content Format Movie, Galleries, bonuses
Live Shows No
Bonus Content Feed site 1,100 scenes
Multiple Site Hub No
Content Updated Daily
VISIT Raunchy Twinks NOW!
VISIT Raunchy Twinks NOW!