Ayor Studios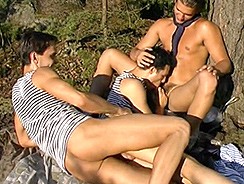 JUB Site Rating:
0 total vote





Ayor Studios's Billing & Pricing
Ayor Studios's primary billing processor: Ccbill
$24.00 per month recurring
$29.00 for one month, non-recurring
VISIT Ayor Studios NOW!
Ayor Studios has been around a long time now, making hardcore porn films in Europe and giving us a great collection of exclusive scenes and videos, and guys even. If you've not heard of them then you need to take a look at their site as what you see on the tour, and what you are promised, is also what is to be found in the members' area. I'd not seen them before and I was totally blown away with what I found.
Being a bit cynical I wasn't sure about their promises: daily updates, hundreds of scenes, professional movies, all that stuff you see everywhere, but once I'd logged in (and the sign-up price is really nice) I could see straight away that these guys are men of their word.
You'll find a top menu, and a home page actually, which leads you to the various areas of the site: Clips, Models, Ayor Movies, Behind The Scenes. I was surprised to find only 13 guys listed in the model index considering there were 541 'clips' to be seen. At first I thought that these 13 guys must get a great deal of sex, before I realised that there are many more guys involved in these scenes than the model index lists. And when they say 'clips' they actually often mean scenes. The movies here ran for between two and 30 minutes, with an average runtime per scene beig around 17 minutes I guess.
Checking back to the first clip listed here I found the same viewing option and download option as with the more recent ones. These are rather limited. With the oldest (I assumed, dates are not shown) scene there was a stream that started automatically and which I couldn't jump through, and there was one Mp4 video. I had the same viewing options with the one advertised as most recent, though the quality here was slightly better. (Around 960 x 540 @ 2,000 kbps.) In both cases the files were not huge and the buffering was decently fast. More recent movies also came with English subtitles.
What I really liked about these scenes though was the variety. There are some series, with on-going parts to longer DVDs, and there are one-off scenes as well. There are guys in uniform, smooth jocks out and about having sex in public places, there are twinks at home, sporty guys, solos, prison scenes, camping scenes, morning gory wake up scenes, and all kinds of hot hung guys involved. They put me in mind of early Cadinot movies, except better visual quality and not on film of video. Lots of variety and yet each of the guys has a look, something special and attractive about him. Cute is not quite the word but somewhere between cute and handsome, the kind of guy you'd want to meet. Oh I don't know, take a look in a moment and see for yourself. You won't be disappointed.
I checked the Ayor Movies link and new tab opened showing me details of 41 full length DVDs. These were adverts with free trailers to download and some of the movies had free image galleries as well. These movies had to be paid for and ordered separately, though I thought the free trailers and galleries were a good idea. My tour around the members' area finished off backstage with a set of 16 behind the scenes clips of various lengths.
Bottom Line:
Ayor Studios manages to find some really hot European boys and gives us 'fresh and new' on a regular basis. That's great news. The downside is that there are no dates on the uploads, not a lot of information, if any, only one stream and one download choice per movie and limited images to view. My main problem though was deciding which of the hot guys to get off with first and I spent far too long downloading some really hot guys in some very sexy and exclusive scenes.
Tags:
European, hardcore, jocks, smooth, exclusive, uniforms outdoor, uncut, anal, euro twinks
High Definition No
DRM Free Porn Yes
Downloadable Yes
Content Format Movies, model index
Live Shows No
Bonus Content Some pics and trailers
Multiple Site Hub No
Content Updated Not sure (states daily)
VISIT Ayor Studios NOW!
VISIT Ayor Studios NOW!