Twinky Toons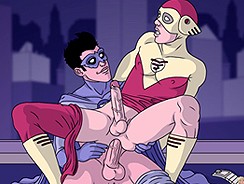 JUB Site Rating:
1 total vote





Twinky Toons's Billing & Pricing
Twinky Toons's primary billing processor: Paycom
$4.95 for seven days trial access recurring
$24.95 for one month recurring
$49.95 for three months recurring
VISIT Twinky Toons NOW!
You don't have to be a toon fan to take advantage of this great offer. When I signed up for Twinky Toons I was also getting access to the full Gay Life Network of sites, that's a huge collection of all kinds of stuff, mainly with a twink theme, and includes exclusive videos, original sites, hundreds of downloads and loads of images. You can even access Twinklight the Movie scenes, and its background, there are interviews, a model index, and all kinds of ways to get involved in your site. Look out for other reviews of some of the sites, such as Teach Twinks, Twinkylicious and Beddable Boys to get an idea, but read on to find out what this recent addition to this treasure trove of twink titillation is all about.
It's about art and drawings and comic strips, fantasy depictions and stories. And it is also about high quality work. That's the thing that struck me first when I saw the site, how good the art work is. This isn't one of those rather dodgy Manga or Hentai sites where all the very young looking guys have purple nobs and long thin dicks, or where there are over-hung green monsters. This is a site for true fans of well-priced erotic art. You find it from the drop down list under Videos on your home page and actually it could be easier to find; it is very easy to be instantly distracted from where you are heading by the sight of what videos are coming soon and have been recently added to other sites. But:
Landing on the main page for the site within the network, I found 289 'results', and by that they mean either episodes of on-going stories or galleries on certain themes. You've got comic strip style action such as Bang Hard Ben with four or five comic pages per episode, and you've got other sets of drawings such as Clothed and Naked, or Pin-ups and wallpapers. The on-going stories revolve around twinks, either in the porn business or working as rent boys and this makes the action varied and often humorous. You get the impression that the backstage at Bang Hard productions is what goes on in the Gay Life studios, for example. You are able to filter the content by its 'type' and there are also various ways to arrange your index pages. You can get involved with rating the content and getting around the pages is easy. The drawings open nice and fast and are very good quality with comic pages opening up to 1,320 x 2,004 though scaled down slightly at first and individual drawings also opening up to large sizes.
You've got a lot of good stuff here dating back not too long so the update schedule looks good, but what you don't have are animations. This is all static art that will fuel your imagination and get your wanking arm working in no time. For videos you need to visit the other sites and they all open in the same window and work in the same way, so that is very easy to do.
And, as well as all these extra eight sites, their full scene videos and galleries, you have a bonus area of 38 other scenes to view. And each of these, and your main content, can be downloaded and kept. There are also many interactive options here with the profile set-up, where you can also change your account settings, and you are also able to make playlists of clips from movies, adding them together to make one big one, you can add things to a favourites area and then share all this with other members.
Bottom Line:
Gay Life is a good, solid and expanding network and with Twinky Toons you have the art department in full swing. It's erotic, horny, hardcore and sometimes fun, and the work is highly collectable. Along with it you get a top network of mainly twink sites and action, with some exclusive content and downloads, plus neat interactive extras. Yup, definitely a thumbs up and a 'join now!'
Tags: Toons, twinks, art, drawing, erotica, hardcore, fantasy, smooth, hung, cartoons, gay comics
High Definition N/A
DRM Free Porn Yes
Downloadable Yes
Content Format Comic strips, drawings
Live Shows No
Bonus Content Twink videos
Multiple Site Hub Yes (Gay Life Network, eight sites)
Content Updated Daily
VISIT Twinky Toons NOW!
VISIT Twinky Toons NOW!