Jizz Orgy By Men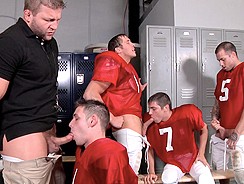 JUB Site Rating:
0 total vote





Jizz Orgy By Men's Billing & Pricing
Jizz Orgy By Men's primary billing processor: Paycom
Jizz Orgy By Men's optional billing processor(s): Paycom E.u
€1.00 for a one day trial
€25.00 per month, recurring
€45.00 for three months, recurring
€80.00 for 12 months, non-recurring
VISIT Jizz Orgy By Men NOW!
Jizz Orgy is one of the sites that is run by Men.com, a large and growing company that's got a really good reputation, and a name for producing high quality gay hardcore. When you sign up for this site you get to access the other six sites in their collection giving you over 700 movies in total, plus the galleries, behind the scenes clips and a set of bonus DVDs. It's a good bargain and it sure is great sex.
It's also an odd price. When I looked around at some of the other Men.com sites I found sign ups more expensive than this one, by a few dollars (Euros actually). I am not sure why is should be but, at the moment at least, it looks like there is an offer going on at Jizz Orgy and if you are quick you can get a membership to the whole network through its sign up pages for less than at some of the other sites' join pages.
And when you do you find yourself in a network where each site works in the same way, opens in the same window and has the same high quality productions. In JO itself there were 54 scenes, and I found then via the Sites link in the top menu. Some of these scenes may appear on other sites in the list, but each of them has at least three models appearing. Usually there are many more, and we're looking at group sex scenes here and no mistake. Very often there is a group of five guys, or more, each one as horny as the next, with muscled guys and twinks, jocks and butch tattooed men all romping in together. The sex is hardcore with loads of blowing and fucking, and there are 'stories' to the scenes as well, making them full scenes and not just quick gang-bangs.
You find good viewing options with these exclusive movies as well: four qualities of stream in two types (streaming or progressive) and in resolutions up to 1080p. There are also downloads from low to HD and I found the low ones to be around 752 kbps @ 480 x 272. That may not sound very big but, once downloaded, it went full screen with hardly any loss of quality and saved me loads of time. The full HD scenes (6,000 kbps @ 1,920 x 1,080) come in at over 2Gbs at times, making them very big for a lot of slower connections; the 'low' quality one was a couple of hundred Mbs only and quick to come down.
Each scene can be added to a favourites area, you can give it a like or a dislike and there are links to the models by name so you can find any other movies they appear in. That's about as interactive as you get here, there were no comments or forums and not a lot of info, so you're concentrating on watching the movies rather than talking about them. The Models list gives you three options, exclusive models (nine), or the most liked (Johnny Rapid with 3,162 likes) and All Models, in which case you get 363 to look at and choose from and each one comes with stats and details, quotes and links to his movies.
For more movies you've got the behind the scenes collection of 86, and new scenes are being added to the network every day, with new ones coming to Jizz Orgy at least twice per month. Add in the 1,000 + full (non-exclusive) DVDs and all their scenes, and you've got an orgy of porn here.
Bottom Line:
You are looking at a low-priced membership to a great network of sites with all hunk and twink orgy scenes being played out to their cum-splattering best. This is excellent, exclusive, hardcore entertainment with perks.
Tags:
Orgy, Groups, Gangbang, Twinks, Jocks, Exclusive, Jizz, Cum, Gay Hunks
High Definition Yes
DRM Free Porn Yes
Downloadable Yes
Content Format All scenes, models, behind the scenes,
Live Shows No
Bonus Content 1,000 + DVDs
Multiple Site Hub Yes
Content Updated Two/Three times per month
VISIT Jizz Orgy By Men NOW!
VISIT Jizz Orgy By Men NOW!