Guys In Sweatpants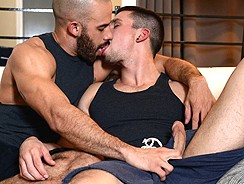 JUB Site Rating:
0 total vote





Guys In Sweatpants's Billing & Pricing
Guys In Sweatpants's primary billing processor: Ccbill
$24.99 every 30 days (recurring)
$29.99 for 30 days (one time charge)
$64.99 for 90 days, then $19.99 every 30 days thereafter
VISIT Guys In Sweatpants NOW!
Guys In Sweatpants was one thing and is now another. Now it is run by Austin Wilde and his lover Anthony Romero. Austin was previously with Next Door Studios, so he knows his stuff and has a following all of his own, as does Anthony, and so does the site, now. It only started up in this new form in February 2013 so it's not yet got a huge stock of scenes, but what scenes there are here are exclusive and the site is keeping up a good, weekly update schedule. There is also a blog and a model index to view.
It's about mixing amateurs with the professionals here with genuine first-timers (in porn) being filmed having sex with the two hosts, one of them or with each other. Anthony and Austin don't appear in every scene but their presence is detectable in the well shot, well put together and professional looking videos that are the result of their hard work.
So far there are 29 such scenes, including many duos, some solos and threesomes, and a meet and greet video. You can stream and download these movies, and the top resolution I found was around 4,000 kbps @ 1,920 x 1,024, with other options, and the stream was at 960 x 540 in size. Streams came in a floating player where you could go full screen with no loss of quality, the buffering was fast and you can jump through the scene, each one of which runs for a good length of time, around the standard 20 to 25 minute mark. Movies have starts and endings, telling a brief story from time to time, and come with a written description.
There are sets of photos with each scene as well, found beneath the description on the view pages. These opened up to screen-fitting sizes with no trouble and came with easy navigation tools. There are also sets of screen caps on these pages so you have a mix of poses, action shots and posed action shots to view and collect. I didn't see any slideshows or zip file downloads though.
Working down the side menu you then come to the model index where 25 guys are currently featured. They have their own pages with some images and stats, a written description and links to any website they might have. Strangely these pages didn't link to their videos so you have to go back to the scenes and find their names or photos in the large sample shots in order to see them in action. You can then click into the blog, though it hadn't been updated for a couple of weeks when I saw it, and catch up on past news. The blog comes with clips, interviews, even recipes from the guys and is a neat addition to what is already a good site.
Your other menu items include a bonus 'Fans' area which, I assume, is a self-shoot photo area for members to post in, but it was temporarily disabled when I saw it. There is also the promise of self-hosted cam shows from the guys and this was also 'coming soon.' Meanwhile, if you want to be a model and get your ass screwed off by one of these hunks, or team up with another amateur guy and make a porn film with the professionals, then you can use the 'Be a model' link at the top of the page. A search engine helps you find what you want to see by keyword, but at the moment the content only covers one page.
Bottom Line:
Give it time but grab a membership now, would be my advice. There are a couple of things that have not yet arrived, but are promised as coming soon and in the meantime you've got some totally horny exclusive scenes, with two professional guys in charge and a lot of spunky amateurs. More content will get Guys In Sweatpants a higher score in due course, but otherwise it's damn near perfect, though the guys are rarely in sweatpants for long.
Tags: (with comas)
Exclusive, Austin Wilde, Amateur, Hardcore, Anal, Oral, Hunks, Sweatpants Fetish, Gay Porn Videos, High Definition, Picture Galleries
High Definition Yes
DRM Free Porn Yes
Downloadable Yes
Content Format Scenes, model index, blog
Live Shows Coming soon
Bonus Content Coming soon
Multiple Site Hub No
Content Updated Weekly
VISIT Guys In Sweatpants NOW!
VISIT Guys In Sweatpants NOW!