Parole Him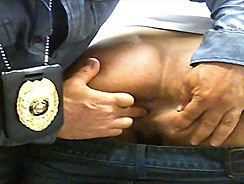 JUB Site Rating:
0 total vote





Parole Him's Billing & Pricing
Parole Him's primary billing processor: In House
$24.95 for 30 days recurring at $19.95
$34.95 for 30 days non-recurring
VISIT Parole Him NOW!
Parole Him has been online a little while now and it is one of those rare sites that offers us something completely new and different. It takes a pretty unique theme and works it, and works it really well. It's all about hidden cameras in a law enforcement, parole, office where the guys in charge get up to no good. The cameras roll as felons, immigrants, and delinquents get marched in for their interviews and punishments. It doesn't take long before these interviews turn into some kind of forced, or unforced, sex sessions between the guards and guys and all the time the various cameras are recording from various angles.
So what you have is a nice mix of fantasy with good camera work, which means you get all the fun and feel of the story and set-up plus all the benefits of decent film making. There is a hidden cam quality to the filming, with framing brackets over some of the visuals, like you might see on raw camera footage, and the sound is slightly muffled as well. It all adds up to realism and this is also reflected in the brief text intros to each 'scene.' The parole candidates, or victims if you like, get a brief mention and you are told their stats as if they were some kind of case study; that all adds to the realism here.
Technically you are looking at a very simple site here. You have streams only and so no downloads are possible, but you have four choices of quality with the medium one running nice and smoothly on a mid-rage connection. You might be able to get your player software to download a scene or two, my Real Player said it could do this, for example. But, basically, that's your choice: four stream qualities and a screen that was around 740 x 440 in size. There is a full screen option and you also have a set of thumbnails to show you points in the scene you can jump to if you want to.
There are no galleries, no images, no interactive things like rates of comments or 'add to favourites' and only a brief write-up with each scene. The scenes run for around 20 minutes or so and I had no trouble playing them or jumping around from one to the other. There were, though, only 24 and no dates to tell me when new scenes might be added. Hey do sometimes have dates in their descriptions, but I am not sure if this is just story or actual upload dates: 'On August 14th 2010, officer Johnson... " etc.
So, a basic site that has one theme and one that it plays out very nicely. No frills, but plenty of reality thrills. I'd like to know more info about when new scene may be added as 24 is not a lot and I am sure the site has been around a while now. (Checking some other stats and sites there were only seven scenes 11 months ago, so it looks like there is only one upload every month, sometimes two.) The sign up price is set at a good level though with the monthly membership reducing after the first month, so that's a good thing. And of course you have the uniqueness of the site to attract you as well.
Bottom Line:
It's fresh and horny, it's great for hidden cam, rough and humiliation play, it's realistic enough to let you imagine, and the guys are all decent looking, fit and sexy and yet realistic as well. So it's kind of believable, certainly exclusive and original and set at a very good price. Streaming only, but with a choice of quality, and updating slowly but surely.
Tags:
Voyeur. Hidden cam. Police. Parole. Delinquent. Hardcore. Cops. Anal. Sucking.
High Definition Yes
DRM Free Porn Stream only
Downloadable No
Content Format Videos
Live Shows No
Bonus Content No
Multiple Site Hub No
Content Updated Monthly
Safe Sex Notice:
This gallery contains images of unsafe sex practices, also known as barebacking. Engaging in sexual practices without the use of a condom is a risky and unnecessary behavior. There are a lot of studios including the one listed on this page that film bareback or have bareback scenes in their content libraries. The images presented below should only be used for fantasy and you should not deceive yourself into thinking that "everyone is doing it." Further, you should not assume that just because you see photos or film content of barebacking that sexually transmitted diseases have been miraculously cured. HIV and other sexually transmitted diseases are very real and potentially lethal. Please practice safe sex in your own life and educate yourself regarding the dangers of not wearing a condom before having sexual encounters. Visit AMFAR for more information about safer sex.
VISIT Parole Him NOW!
VISIT Parole Him NOW!