Next Door Stars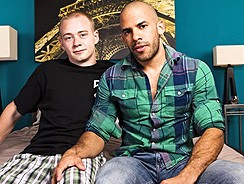 JUB Site Rating:
0 total vote





Next Door Stars's Billing & Pricing
Next Door Stars's primary billing processor: Paycom
Next Door Stars's optional billing processor(s): Paycom E.u
$2.95 for a three day trial
$29.95 for 30 days
$67.95 for 90 days
$179.95 for one year
VISIT Next Door Stars NOW!
Next Door Studios are big and they have many sites available out there, with gay and bi and straight action. What they have done here at Next Door Stars is to gather together the solo sites and their content and put them all under one roof. This means that if you are a fan of certain porn stars you can access the site and find all their hot videos in one place. But who are these stars and what do they do?
Here are some names, the names of the current Next Door Stars: Austin Wilde, Samuel O-Toole, Marcus Mojo, Rod Daily, Trystan Bull, Mason Wyler, Tommy D and Paul Wagner. All these guys, as far as I remember, have their own sites, and each of those sites links in to the others and more of the ND series, so the point here is that if you've already got a membership to one of those sites, you will already have seen this content before. It is exclusive to the company, but not necessarily to this site. I hope that's clear enough.
Meanwhile: on the site, in the members' area, I found plenty to see in the Videos department. The members' area looks like the tour so what you see is what you get and you can check out samples on the tour before buying in. Once inside though you get to access all the movies in their entirety, and I counted 706 of them. There were some old favourites in here, some models I'd forgotten about and it was nice to catch up on them again. There are solos and hardcore, some first timers with the stars, even some fans, and there are also some bi and straight scenes as some of our gay stars swing all kinds of ways.
Movies are set up so that you can stream and download, more recent movies have loads of options up to 1080p for Mp4 and WMV and streams, while older movies have less choice. You shouldn't have any trouble streaming or downloading, and the speeds were pretty fast. Movies run for decent lengths of time, around 20 minutes, they are well made, and good quality studio production standards are used throughout. They are fine, your good and solid porn movies made by specialists, so you've no worries on the quality front. The scenes come with photo sets as well and these too are good quality and plentiful and, like the videos, there are big and clear sample pics on index pages to guide you to what you want to see. Images open as scaled down, to fit your screen, and can be clicked up to larger sizes; 1,280 x 1,920 for example.
In the model index you're going to meet the eight stars first, and then the guys who have come to play with them. There are plenty of them and this means plenty of variety, with more muscled studs standing hard and proud alongside younger and smooth, twinks, jocks and amateur boys. Good body shots (for most but not all) lead to basic stats (again only in some cases) and links to videos and on to images. You can get mildly involved here with Tweets and Like buttons and so forth, you can add things to a favourites area, but I didn't see rates or comments functions.
Bottom Line:
For me, as long as you've not got a membership to the Next Door collection already then you're going to like this site. It's about a set of pro porn stars who have worked for ND and who appear in solos, with other porn stars and with first time amateurs. There are very high quality standards, lots of download choices in the more modern movies, good galleries, some very horny guys and, although I didn't see upload dates, I know the company is still running and making more hot porn and uploading it, so you should be fine here too. A good collection of some top work by some top porn studs.
Tags:
Porn stars, muscles, first time, hunks, hardcore, amateurs, Next, Door, Rod Daily, Austin Wilde, Tommy D
High Definition Up to 1080p
DRM Free Porn Yes
Downloadable Yes
Content Format Videos, Photos, Models
Live Shows No
Bonus Content No
Multiple Site Hub No
Content Updated Dates not shown
VISIT Next Door Stars NOW!
VISIT Next Door Stars NOW!