Jason Sparks Live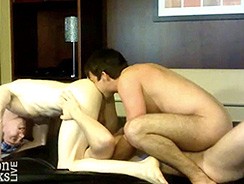 JUB Site Rating:
0 total vote





Jason Sparks Live's Billing & Pricing
Jason Sparks Live's primary billing processor: Paycom
$24.95 for one month recurring
$39.95 for one month, non-recurring
$59.95 for tree months recurring
$99.95 for six months recurring
VISIT Jason Sparks Live NOW!
It's not what you think. Jason Sparks Live isn't a live cam site where one guy appears every now and then, though there is a live cam area set up within the deal, though not completely included in your membership price. This site is about a horny porn guy taking a road trip across the USA and making bareback movies with other hot guys as he does so. Jason's been performing for a while now and knows what he is doing.
You can sign up, and there are a few good offers to consider, and then you click into the members' area which looks pretty similar to the tour area, which means you can see what you're getting before you part with any cash. Here you see recent updates and news about where the road trip is taking him next; there are very regular updates to the site, which is also another piece of good news. The top menu will take you to the content and the models, and heading for the videos area, 'Scenes' I found page one of many index pages.
These are filled with sample pics, one from each scene, and these come with upload dates and viewing options. Click High, Med or Low to start the stream immediately, or head to View for more options. Clicking there gives you a more traditional viewing page with rates and comments and images, plus stream options and one download options too. You have HD movies these days with sizes up to 1,280 x 720 @ 2000 kbps, perhaps faster, and excellent quality viewing. There relay is nothing to fault the quality of the productions and I found even the low quality streams were not too bad at full screen, a bit fuzzy but if that's all you can manage you will do OK.
Jason himself is a horny enough guy, cute in a smooth and fit way, but some of his other guests are just drop dead gorgeous, in an amateur kind of way. There are 75 guys in the model index, you can give them a rate, leave a comment and click to their appearances. I only found two with Jason himself involved, until I scrolled down the page and found I also had content from Club Jason Sparks and Dirty Boy Video, 66 scenes in total. In the main scenes index there were 245 dating back to 2009, where the quality won't be as high or HD, but where the action is still just as hot.
So, a nice mix of Jason scenes and other amateur and professional guys, some extra content mixed in from his other sites, and then the link to the live site. Actually, this does have some free chat and is nicely set up in its own window, and you can meet some pretty sexy guys here. To chat in more depth and get naughty you will have to pay up some extra cash of course.
Just nipping back to check out the rest of what's on offer at Jason Sparks Live though: you find the images I mentioned on the video viewing pages by clicking the View link on the index page. Beneath the stream options you find sets of pics from the scenes, with various numbers of images per scene. These are set out in thumbnail pages and when you click one you find a full sized image that's good quality and scaled to fit your page. You have action shots from the scene and some posed pics here, and you can collect the images one at a time and run slideshows.
Bottom Line:
To be honest I was, from the title, expecting a live show site, what you get is a set of bareback exclusive scenes organised by Jason Sparks, and featuring amateur guys. You can apply to be one to if you want, you will find the details on the site. Or else you can simply sign up, log in and enjoy some pretty excellent hardcore movies and their galleries.
Tags: Amateur, hunks, bareback, Twinks, American, reality
High Definition Yes
DRM Free Porn Yes
Downloadable Yes
Content Format Videos wit galleries, model index
Live Shows Yes - pay extra
Bonus Content Some content from other sites included
Multiple Site Hub No
Content Updated At least weekly
Safe Sex Notice:
This gallery contains images of unsafe sex practices, also known as barebacking. Engaging in sexual practices without the use of a condom is a risky and unnecessary behavior. There are a lot of studios including the one listed on this page that film bareback or have bareback scenes in their content libraries. The images presented below should only be used for fantasy and you should not deceive yourself into thinking that "everyone is doing it." Further, you should not assume that just because you see photos or film content of barebacking that sexually transmitted diseases have been miraculously cured. HIV and other sexually transmitted diseases are very real and potentially lethal. Please practice safe sex in your own life and educate yourself regarding the dangers of not wearing a condom before having sexual encounters. Visit AMFAR for more information about safer sex.
VISIT Jason Sparks Live NOW!
VISIT Jason Sparks Live NOW!