Real Gay Couples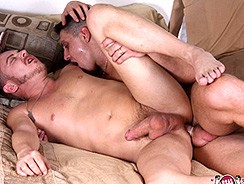 JUB Site Rating:
0 total vote





Real Gay Couples's Billing & Pricing
Real Gay Couples's primary billing processor: 2000 Charge
$1.95 for three days, recurring (limited trial: three full videos only)
$4.95 for seven days, recurring (limited trial: three full videos only)
$24.95 for one month, recurring
$49.95 for three months, recurring
VISIT Real Gay Couples NOW!
When you sign up for the latest reality site, Real Gay Couples, you get to access two twink sites as well. That's by way of an incentive as there are, at the time of writing, only 12 scenes at this particular site. Having said that, they are very good, and they are also exclusive. Go for a monthly membership at least, as there are over 100 scenes in total, and the trial sign-ups are limited, and you will then benefit from weekly updates and lots of extras as well.
You sign in and discover that you are in the members' area for the network 'We shoot porn' and it's a good one. Not only do they have high production standards for their movies, but they also have a very nifty members' area for you with lots of interactive things to see and do. But first the content:
Use the drop-down in the videos part of the main menu to find all videos, or filter by site, and then find the Real Gay Couples content of, currently 12 scenes, with a new one coming along each week. You then find neatly arranged index pages with good sample shots and details, plus links to photos and viewing. The viewing pages give you all kinds of choices for resolutions, though they use only WMV and Mp4 files. There are inks too, on the main pages, where you can click to access the site on your mobile and some of the lower quality, smaller, Mp4 files are fine for phones. There are also HD versions, or at least there will be, of some of the scenes and other choices too. I found the mid-range one was fine on my PC and streamed easily. You've also got DRM free downloads and there are no problems in getting to view the scenes.
They are good quality and well put together. What is really nice is that they start off with a chat with the couple first, so this isn't made-up porn, you really do get to know the guys. And then you watch these couples having sex, and it is all natural and a bit voyeuristic. They go all the way of course, and there are some horny duos, some very nice guys and a good mix even in this small amount of videos. Each one comes with a set of images as well, and these are also good quality and collectable, up at 1,000 x 600, roughly, when at full size and coming with slideshows.
And then you get your extras, like the content from Boy Feast, Tasty Twink and a set of movies from feed sites that are also set out in the same way and windows as your main content. You can create playlists from the scenes, adding your favourite clips together into one long list, or as many as you like; you can rate content and comment on it, and there is an 'add to favourites' functions as well. You then find your collections in the Account area where you can also make up a profile and share that, and your favourites, playlists etc. with other members. The whole site is simple to use, really nicely designed and the quality of the pages and interactive options nicely mirrors the excellent quality of the videos.
Bottom Line:
OK, so it is a new site and doesn't have many videos yet, but Real Gay Couples has excellent quality, reality scenes and is uploading a new one every week. Meanwhile you have a generous stock of extras to view in a site that has all the helpful and interactive options a great site should have. Great fun and great value.
Tags:
Reality, Real Life Gay Couples Porn, HD, Twinks, Amateurs, Hardcore, Multisite Network
High Definition - Up to 1080p
DRM Free Porn - Yes
Downloadable - Yes
Content Format - Videos with high resolution galleries
Unique Features - Model index, playlist, favourites, members' profiles, comments, rates
Live Shows - No
Bonus Content - Two twink sites, and feed sites
Multiple Site Hub - No
Content Updated - Weekly
VISIT Real Gay Couples NOW!
VISIT Real Gay Couples NOW!