Teens And Twinks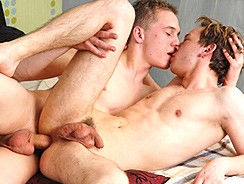 JUB Site Rating:
0 total vote





Teens And Twinks's Billing & Pricing
Teens And Twinks's primary billing processor: In House
$24.95 per month recurring
$39.95 for one month non-recurring
$49.95 for three months recurring
$99.95 for six months non-recurring
$149.00 for one year non-recurring
VISIT Teens And Twinks NOW!
You will probably be able to guess from the title exactly what this hot site is all about. Teens and Twinks gives you hot and smooth, 18+ guys in solo and hardcore scenes that are good quality. Obviously many sites offer the same thing so the big question here is, why join this site? For a start it is an AEBN/Gunz Blazing site you we know we are going to get good quality productions. And then you need to check out the other things: the hot models, the extras, the ease of use and the decent sign up rates. Take a look at the tour and believe what it shows you as that's what you get inside.
Bareback teen boys in soft-focus, well made, well shot scenes that are exclusive and run for good lengths of time; and there are 99 of them at the moment. The top resolution was around 1,800 kbps: 1280 x 720 and I didn't find any DRM in use, though colleagues have reported that some access was restricted on WMV files. (But I didn't find any WMV files.) Actually these are not all hardcore or duo scenes, there are a lot that are solos which means you get to spend quality time alone with some very cute and sexy guys. Click to the Videos area and you find decent sized sample pics giving you titles, which are the boys' names, and then a choice of how you view. You can go straight to a high, medium or low stream or you can click to the view page where you find some more information, a place where you can leave a comment, your choice of streaming and rates. And there are also images to browse here as well.
The downside, if there is one, to this site is that the movies only come with one choice of download, an Mp4. That's fine and should suit all but there is only one selection of quality though it's a decent one. You have the three choices for streaming though, and I found the medium one was just fine, even at full screen. Watching some solos I found I was taken right in close to the guys, there were long shots as well, the sound was natural and fine and none of the action was missed. Whether it is solo or hardcore you get a good quality of filmmaking here.
There were 178 photo sets to browse as well and like the videos these come with upload dates and some basic info plus some interactive options. Images clicked up to 850 x 1,280 when at full size though started off scaled down for ease of viewing. Slideshows and zip files are also available. You can check the model index out as well and browse through the 163 models who appear here. It is these guys who make the site what it is, they are the true stars, and they are all exactly as promised. Some are, I guess, East European with names like Dmitri and Ivan, all are smooth and pretty, many are shaved, most have meaty cocks, and there are plenty of doable asses in here I can tell you. I'd sum up these boys by calling them 'heart melters and cock hardeners.'
And then, just when things could not get any better, you can you can click into 37 feed sites for more variety, you have access to the Men Live archives for recordings of real live shows, and access to Tribal Twinks was also included in my membership.
Bottom Line:
You are looking at a top quality site with exclusive content that is all about perfect Teens And Twinks. There are downloads, images, bonuses and extras, the sign up price is good, and the boys are hot, smooth, shaved and raring to go.
Tags:
Teens, Twink, Smooth, Shaved, Exclusive, Hardcore, Solo, Youth, Bonus, Cut, Uncut
High Definition - 1,800 kbps: 1280 x 720
DRM Free Porn - Yes
Downloadable - Yes
Content Format - Videos, streams, galleries,
Unique Features - Various sort options, search facility, model index, favourites area, category list, rates
Live Shows - Yes
Bonus Content - Tribal Twinks (and some feed sites)
Multiple Site Hub - No
Content Updated - Up to four times per week
VISIT Teens And Twinks NOW!
VISIT Teens And Twinks NOW!