Bad Puppy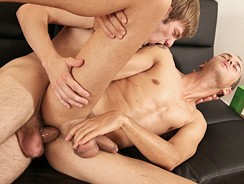 JUB Site Rating:
0 total vote





Bad Puppy's Billing & Pricing
Bad Puppy's primary billing processor: In House
Bad Puppy's optional billing processor(s): Ccbill
$9.95 3 Day Trial Membership / $19.95 Monthly Auto-Renewing
$15.00 10 Day Membership (One Time Charge)
$19.95 Monthly Membership / $19.95 Monthly Auto-Renewing
$34.95 One Month Membership (One Time Charge)
$54.95 Three Month Membership (One Time Charge)
$99.95 Six Month Membership (One Time Charge)
VISIT Bad Puppy NOW!


I'm sure I came to this site a few years back and had trouble finding my way around. But that's not the case now. There is a clean and professional look to the pages, there is a clear top menu taking you to all the neat features, and what you have is a well designed magazine style site that covers all kinds of things hot and gay. In fact, there is probably too much at this site for me to describe everything, so I'll give you a quick run down of what's inside and then leave the tour to speak for itself.

First of all the videos, many of which are exclusive and which come with no download limits. Under the videos tab you've got studio produced DVDs, some well known names have content here, and there are streaming scenes, clips, PPV and links into themed sites with their own movies. There was a link to the Bad Puppy VOD site which has a good category list and a neat streaming player set-up. The other movies, when not streaming/feed sites, can be downloaded in WMV, Quicktime and MP4 for iPods etc. Bottom line: lots of them and lots of variety.

The Galleries area works in the same way with well designed sample pages that have images linking you to galleries that come with movies, 973 in total. Numbered index pages help you through this vast collection and all the samples and images I saw were good quality and opened up nice and fast. Individual pics opened in Flash and galleries held varying amounts of screen caps and/or digital stills.

Clicking onto the Live Sex area brings you schedules from well known live sex shows such as College Boys Live and Hot Cam Boyz. Bad Puppy has arranged for you to view these shows as part of your membership, and it looks like there are 13 included, with some other suggestions marked as 'up-sells' where you will have to pay extra to join. A schedule and instructions are featured on this page making it very easy to see when you need to be around to enjoy a live show.

Moving on to the bonus sites you've got 45 varied ones to explore, plus a list of others where you can see some content, but where you would need to sign up to see all. That's what I really like about Bad Puppy, it tells you when something is free with your membership or when you will need to pay to view. In that respect it is very honest; which is a real plus for an adult site. You can trust Bad Puppy and that surely is a good thing.

But my favorite part, the thing that sets it aside from any other gay adult sites, is the Community area. Here you've got all those extra magazine style things that really make a difference: Chat rooms, erotic stories, forums, horoscopes, directories, news and magazines to suit your gay lifestyle. You can join in some great communities through here and find all kinds of useful and fun things to do when you're having a break from your porn.

Bottom Line:
This is a huge and great value for money site to come to. Take a few minutes to get used to the navigation and then settle in to spend the rest of your life with the videos, galleries, chat, live shows and all other things that are included for under $20.00 a month.
VISIT Bad Puppy NOW!
VISIT Bad Puppy NOW!