Sw Nude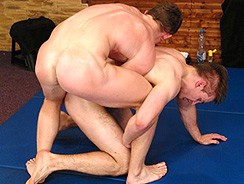 JUB Site Rating:
1 total vote





Sw Nude's Billing & Pricing
Sw Nude's primary billing processor: Ccbill
Sw Nude's optional billing processor(s): Paycom, Paycom E.u
Prices:
$14.95 for 30 days recurring
$24.95 for 30 days non-recurring
$49.95 for 90 days non-recurring
VISIT Sw Nude NOW!
SW Nude comes to us from William Higgins and his East European operation, so we're got hunky Czech guys to deal with here, which is always a bit of a pleasure. The site is primarily about fit and handsome wrestlers, young and smooth, oiled up and naked, for most of the time at least. You've got a collection of exclusive wrestling videos that are available for streaming and downloading, images galleries to go with them, and some extras as well.
You log in to find a very simple site with a nice and clear design. There are large sample shots from the bouts that lead you to the recent updates, plus a small menu to take you to the videos and galleries. The content falls into two departments really; there are the submissive wrestling bouts and then there are the extras. It's a bit like going for a naughty massage in that respect. Either way you get the same viewing options of a DRM free download in WMV with good quality files at around 2,000 kbps @ 1280 x 720, and a Flash stream that is around 852 x 480 in size. Full screen is fine on that and the buffering was quick, the movie running without any start-and-stop at all; I was also able to jump through the scene if I wanted to.
Videos run for a good length of time, about 30 to 40 minutes for the actual bout, though shorter lengths of time for the extras, around three to ten minutes or so, it varies. The bouts are real. The guys warm up, in tight fitting underwear usually, circle each other and then start to grapple. The underwear stays on for some time as they heave and hump each other around, and then it comes off and the wrestling is not only real but also naked. Scores are kept and there is a winner at the end. But the real winner is you as you get to watch every inch of these toned and fit guys, totally nude, oiled up and being athletic. It takes you back to the days of ancient Greece and Rome; well it would if you'd have been there.
You're now wondering what these extras are aren't you? Well, they're the sex parts. After the boat the guys take showers, or sit naked and jerk off, occasionally they might suck or wank each other and sometimes these extras are really sensual and erotic. It's not hardcore stuff really, no anal that I found, but you get some lovely moments with these totally awesome younger Czech guys naked and working on each other's bodies. Like the wrestling videos they are great quality too, and you can download them. There were 92 videos in total, each bout comes with an extra, and it looks like a new bout and its extra are being loaded up every week.
You've also got the photos that go with the scenes and these are found in their own areas. There were 46 wrestling galleries and 47 wrestling with extras galleries. These are also updated every week and there are lots of pics per set; around 450 to 600, it varies slightly. The quality is good, images are shown in thumbnail galleries and solo pics click up to 665 x 1,000 in size where they are still clear and well taken. There are also slideshows and easy navigation, zip file downloads and a choice for the size of thumbnails.
Bottom Line:
This is not an interactive site; you have descriptions with the content and that's it, but there is a search function and support if needed, there are no extras and no way to get involved. You simply log in each week to watch a new bout and find the extras and you get good quality content with some totally stunning guys. It's all 100% horny and brilliantly put together so will appeal to wrestling fans and anyone who likes naked, athletic hunks.
Tags:
Wrestling, Athletes, Czech, Bouts, Erotic, Showers, Jocks, WilliamHiggins
High Definition - Yes 2,000 kbps @ 1280 x 720
DRM Free Porn - Yes
Downloadable - Yes
Content Format - Videos. Galleries. Galleries with extras
Unique Features - Zip file downloads for pics.
Live Shows - No
Bonus Content - No
Multiple Site Hub - No
Content Updated - Weekly: video, extra video and gallery
VISIT Sw Nude NOW!
VISIT Sw Nude NOW!