Gay War Games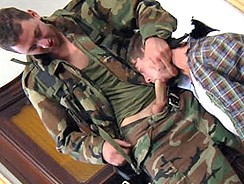 JUB Site Rating:
2 total vote





Gay War Games's Billing & Pricing
Gay War Games's primary billing processor: Ccbill
$29.95 for 30 days then $24.95 recurring
$34.95 for 30 days non-recurring
$79.95 for 90 days non-recurring
VISIT Gay War Games NOW!
Gay War Games is still quite new and some would say it is in very bad taste; but then anyone who says that would probably say that about any hardcore gay site. This one is all about soldiers and terrorists and guys beating each other up in the woods, capturing enemies and then having their wicked way with them. Lots of military action, lots of young and amateur looking natural guys, lots of fantasies and 15 original scenes so far. The site only started four months ago so that's why it's not a huge content count as yet.
You start off at a home page that shows you a lot of detail about each of the scenes, and they are all currently listed on this one page. You have a description of the scene which gives some fantasy background and helps build up the scenario. And then you have several images from the video to show you exactly what goes on. We are proudly told that the scenes were filmed, edited and encoded in HD and are available for streaming without DRM, you can also download the same.
I found choices of files with Flash, MWV and QuickTime available. It was easiest to stream in the Flash version which opened in a new window to a good size. If I tried a WMV stream, as I did, I was asked for my username and password, but not if I downloaded it. The resolution was at 5.22 Mbps @ 1280 x 720. File sizes for download were around 600Mbps and scenes ran for a good 20 minutes or so.
They came with sets of images in zip file downloads as well and these came down nice and fast at around 212kbps. Image sizes were 1,500 x 1,000 and were watermarked. It's a bit of a clumsy way of downloading and viewing images, but it frees up space on the page I guess and means that you find all of your main content in one place only. As with the videos, the quality was fine and the images were sharp and clear. I had no complaints about the quality of the videos or galleries.
The action is all about punishment and terrorists being caught, or solders capturing and abusing other soldiers, there is some BDSM elements and some S&M as well. You are often outside in the forests or in huts or barns. There is plenty of forced oral and anal, uniforms are always on show and you are in for bareback and facials like nobody's business. There is a strange kind of East European feel to the set up as well, particularly as some videos are subtitled. They have sexy Russian style amateurs (you will see what I mean when you sign up) and the whole thing works really well. This is an unusual and horny site to stumble across.
At the top of the one long page you will see a few other links to try out: Rules asks you not to share the content, DVD Shop leads you to an exclusive shop where you must log in, you can sign up for a newsletter and there is a Forum, which is more of a guestbook, and there are links to support and the site's blog.
Bottom Line:
Something original on the military theme with East European twinks playing Gay War Games and sometimes playing them quite hard and realistically. Loads of twink uniform porn.
Tags:
Military, Fantasy, Hardcore, Twinks, BDSM, S&M, Interrogation, Bareback
High Definition - up to 5.22 Mbps @ 1280 x 720
DRM Free Porn - Yes
Downloadable - Yes
Content Format - Videos to stream/download and zip galleries
Live Shows - No
Bonus Content - No
Multiple Site Hub - No
Content Updated - Weekly
VISIT Gay War Games NOW!
VISIT Gay War Games NOW!