Gangster Fuck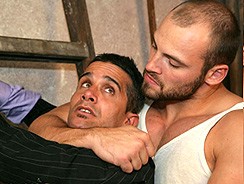 JUB Site Rating:
0 total vote





Gangster Fuck's Billing & Pricing
Gangster Fuck's primary billing processor: Ccbill
$28.95 for 30 days recurring at $24.95
$34.95 for 30 days non-recurring
$69.95 for 90 days non-recurring
VISIT Gangster Fuck NOW!
A bit of guesswork here: Gangster Fuck started around the end of 2010 and it's European. Well actually I know it is European, some of the tour languages shows you that and some videos have subtitles. But it is not, as you may think, about hard Latinos and that kind of interracial 'Gansta' thing. It is about European criminals getting their just deserts or punishing their victims in highly sexual ways. You are looking at BDSM and S&M here with, as the site puts it: 'Bondage SM Rough SEX Piss Domination Feet/ Own production/ exclusive content.' Which just about sums it all up nicely.
The content is also pretty original. There were 97 scenes when I called in, running for between 10 and 20 minutes each and available in various formats. There were decent sized Flash streams, there were QuickTime and WMV downloads as well. Though I don't think the content is DRM protected, I was asked for my username and password before I could run my first stream. Mind you, if you want to get interactive with the site and leave comments etc. you also have to create a new password and enter the Interactive part of the members' area, so they seem to like their passwords here.
I downloaded in WMV and the transfer rate was decent at around 200 kbps for me, and the files were not too big. Not in the older scene anyway, the more recent ones may be higher quality and thus bigger files to download. The quality though was fine generally speaking and I found files at 5.24 Mbps @ 1280 x 720, which were fine to view. The photos that come with them are in zip files as well and at 1,500 x 1,000 in size, with some screen caps also being available. You should have no trouble with these movies or pics, though there are only the three choices of full scene to take. (WMV, QuickTime and Flash.)
The action is exactly as depicted on the tour: young guys, twinks, some older men, in rough and violent gangster situations: guys being hustled into the boots (trunks) of cars, guys being 'beaten up' and made to eat trainers, getting pissed on as punishment and bound and gagged before being fucked. There is no point in beating about the bush, these videos are hard and nasty and will satisfy your cravings for domination and punishment porn. But the guys are still cute and sexy and the videos are very easy to get off to. If you like your fetish with feet and watersports and a harder edge then you're going to like these movies.
The strange thing about them is that they are set out with only two per index page, so you click through many pages in the end. But they all work in the same way and come with upload dates (weekly) a small description, a sign to show you if they are bareback or not, and many are, and you can run the scene from, and in, the index page without having to open a new tab. There isn't a menu as such but there are tabs for Home, Interactive (where you create a password to join in) and Index/Boys which is the model index. There were 50 guys here aged from 18 to 32, some very sweet faces and lots of cute guys, some gagged and bound or in pain, but most with a stylish model head shot. You just click your favourite looking boy and then find all his videos.
Bottom Line:
It really is a Gangster Fuck here with 18 to 30 year old guys in fantasy scenes that involve BDSM, other fetish action and watersports. You've got good quality HD movies, galleries to download and some very sexy European models appearing. Top fantasy material if you ask me.
Tags:
BDSM, S&M, Bondage, Feet, Fetish, Watersports, Gangsters, European, Rough
High Definition - Up to 5.24 Mbps @ 1280 x 720
DRM Free Porn - Yes
Downloadable - Yes
Content Format - Videos, screen caps and galleries (in zip files)
Live Shows - No
Bonus Content - No
Multiple Site Hub - No
Content Updated - Weekly
VISIT Gangster Fuck NOW!
VISIT Gangster Fuck NOW!