Bareback Latinoz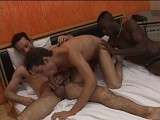 JUB Site Rating:
0 total vote





Bareback Latinoz's Billing & Pricing
Bareback Latinoz's primary billing processor: Paycom
$29.95 for 30 days recurring
$49.95 for 30 days non-recurring
$69.95 for 90 days recurring
VISIT Bareback Latinoz NOW!
I was looking at this site and wondering why the members' area looked kind of familiar, and then I released it was because it is the same design as ten other members' area I'd seen before. That doesn't mean it is the same content, far from it, but it does mean that when you sign up for Bareback Latinoz you get to access ten other hot sites from the CJXXX network as part of your package. But more about them later. First of all, here's what this site has to offer you:
First of all you get raw sex with all kinds of Latino guys and a new scene every week. That's the bottom line really. Actually, there are some Latino/Black interracial scenes as well, and I am not too sure how exclusive this all is; I have a feeling I have seen some of these movies before but that might have been on another CJXXX site where, as far as I know, they only have their own content. Anyway, there were 56 scenes when I was in the site and they are arranged over neat index pages, making them easy to find.
Videos come with a title, upload date and a description. You then click in to find a WMV stream (at 720 x 480 @ 2.5Mbps in the more recent ones) and a choice of WMV download or an iPod version in a smaller Mp4 file. You can take these moves and keep them DRM free. They all concern themselves with at least one sexy and hung Latin guy, sometimes more. You have couples together some threesomes as well, some of those interracial scene I mentioned and occasionally white guys get in on the act too. There is nice variety with inside and outdoor shoots, and the runtimes are good with scenes lasting at last 20 minutes, sometimes up to 35.
It's a bit odd but the scenes come with large sets of screen caps beneath them but you can't open these to enlarge them. They are shown as if they are a picture guide to the action; you can see them but you can't make them bigger. You do though have 96 galleries in a separate area and these too feature Latino boys, though these galleries are not necessarily taken from the action videos. In these sets, which had various numbers of pics each, I found solo and action sets with great looking Latinos (sorry, Latinoz) and these clicked up to sizes of 640 x 960 where there were slideshows to run too.
So, all in all, a good and growing set of Latino hardcore and solos, with good quality videos and galleries. And then you get your extras. This network gives you access to some video feed sites for extra third party, non-exclusive content, and there were many extra movies to watch there. There is even a Latino area in this bonus package, though not all of the feeds are Latin themed. And then you can check out the other sites in the network and now there are ten of them. Again they are not all Latino themed as this is a generic network, but you do have Brazilian Studz, Young Latino Studz and Bareback Twinkz (notice the important 'Z'?) for more Latino and bareback action, plus the other sites that cover Asians, studs, straights and Fetish content. Each of these sites opens in a new tab and I found I was able to go straight into the members' areas when I clicked on one so that, like the rest of the navigation here, was nice and easy.
Bottom Line:
What you are looking at here is a good value membership to one Bareback Latinoz site, another Brazilian guy site, more bareback sites and then the rest of an exclusive network that has good quality content. You get weekly updates in this one site alone, an easy ride, good quality and simple navigation with some interactivity. I'd say, well worth a sign up!
DRM free - yes
Downloadable - yes
HD - no 720 x 480 @ 2.26 Mbps
Safe Sex Notice:
This gallery contains images of unsafe sex practices, also known as barebacking. Engaging in sexual practices without the use of a condom is a risky and unnecessary behavior. There are a lot of studios including the one listed on this page that film bareback or have bareback scenes in their content libraries. The images presented below should only be used for fantasy and you should not deceive yourself into thinking that "everyone is doing it." Further, you should not assume that just because you see photos or film content of barebacking that sexually transmitted diseases have been miraculously cured. HIV and other sexually transmitted diseases are very real and potentially lethal. Please practice safe sex in your own life and educate yourself regarding the dangers of not wearing a condom before having sexual encounters. Visit AMFAR for more information about safer sex.
VISIT Bareback Latinoz NOW!
VISIT Bareback Latinoz NOW!