High Performance Men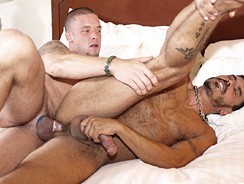 JUB Site Rating:
1 total vote





High Performance Men's Billing & Pricing
High Performance Men's primary billing processor: In House
High Performance Men's optional billing processor(s): Paycom, Paycom E.u
€2.95 for three days trial
€29.95 for 30 days recurring
€68.95 for 90 days recurring
€199.99 for one year non-recurring
VISIT High Performance Men NOW!
High Performance Men, another winner from Zubb Media, strikes me as being all about the men, that's why I went straight to the model index. 23 muscled, fit, hunky, horny, and tough looking guys to take your breath away; real porn star stuff. And then I checked the videos, 20 dating back to the start of the site five months ago, so a new one every week. And then I checked the bonuses and found access to five more sites that are all about fit and hunky, studly guys. So, not only high performance men but a high performance membership too. Here's how it works.
You start off at a standard home page with updates featured with some of the guys and a stream of the most recent addition; it's exactly the same as you see on the tour, except here you've got the whole scene. You can change the language of the site, and there are five to choose from, and then you click to the videos page. Index pages lead you through the collection and each scene is shown with an upload date, title, link and shot from the action. Click the pic to get to the viewing page.
Like all the Zubb sites I've seen recently you not only have good quality videos, but also lots of choices for viewing. The site is mobile in that you can also use it on your phone, and you've got downloads for all your iThings in four choices of Mp4 right up to 720p, plus two choices for WMV. There are also four Mp4 stream sizes to select from so you should be able to watch these movies on line with no trouble. Also on the viewing pages you find linked category words and suggestions for other, similar videos to watch plus a description. You can also link straight to the photos from the scene from here and there you come to a simple thumbnail page showing you the images that are available.
You've also got the main Photos area where I counted 24 sets with around 30 pics each. Again, there were basic thumbnail pages with individual images scaled down to 336 x 421 and then, with a further click, going to their full size of 1,280 x 1,600 where the quality remains perfect. And you can say that about the filming of the videos, the performances, the hardcore action and the solos, there's nothing to fault with the content at High Performance Men.
And as for the men themselves; click back to the model index to find good sized body shots of almost every guy, profile pages, and the guys' names. There were a couple I vaguely recognised but no major players here, which leads me to suspect that these guys are pretty exclusive to this site, and company. They are all big, butch and hung, there are some interviews to watch and easy links to each guy's videos and galleries and, like everything else here it all runs smoothly and works well. It's not very interactive, but you can apply to be a model and there are handy links at the bottom of the pages, once you've fought your way through some adverts. Actually, the ads are easy to ignore.
You can click to your bonus sites from a drop down list in the main menu and those sites, such as Austin Wilde and Rod Daily, give you more hot videos, hardcore guys and great value. To keep right up to date, check the blog which you can also access from the top. It's all very easy and fun to view.
Bottom Line:
The guys put in some stunning hardcore performances at High Performance Men, and also strip down solo-style and get interviewed too, so it's a neat mix of hard and soft. But the guys are the stars and they stay hard here. You will be hard pushed to find a more stunning array of studs.
VISIT High Performance Men NOW!
VISIT High Performance Men NOW!