Bath House Bait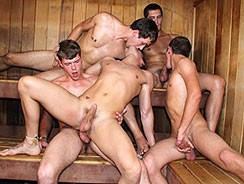 JUB Site Rating:
0 total vote





Bath House Bait's Billing & Pricing
Bath House Bait's primary billing processor: In House
$1.00 for a one day trial
$24.95 for 30 days recurring
$58.50 for three months
$95.40 for 12 months
VISIT Bath House Bait NOW!
I've been asked to take a look at Bath House Bait and to be honest with you I can't wait! That's because I know that this site is just one of the sites that you get to access when you sign up for The Gay Room, even though I am signing up for Bath House Bait I will be able to access all eight of their sites from the one main home page. Each of the sites works in the same way, they all have exclusive content, top models, really good quality videos and pics and updates. (Watch out for pre-checked cross sales on the sign up forms, there are two of them!)
And each site has its own theme as well and here it is clearly sex in the shower. Well, actually it is a bit more wide ranging than that. It is sex in the bathhouse, so in the sauna, locker rooms, showers and all over the place really. When I called in there were 22 such scenes and they had been uploaded over a period of 14 months, which doesn't, at first, look like a very good update schedule. In fact, there had been no new scenes for five months, but that's not to say that there will not be any more. The other sites in the network are updating and so perhaps the bathhouse is simply closed for renovation at the moment. The way these guys fuck in it I would not be surprised if they'd broken a few tiles, smashed a few walls and filled the pool so full of jizz that it needed a deep clean.
Things get raunchy in the Bath House, that's for sure and it get raunchy with the idea that straight men get seduced into gay sex. At least I assume that's what the 'bait' of the title means. Sometimes it's hard to tell. These are clearly porn models, and they certainly know how to entertain. You have names in here such as Tyler Sweet, that top twink who plays bottom. In at least one scene he plays bottom to about ten guys, and you are going to find similar scenes with other horny younger and older guys.
The neat thing here is that you have got trailers to watch per video so you can see what's going to happen. There are also various choices for downloading including HD files in three formats. And you are guaranteed good quality movies here, with screen caps to go with them that were taken from the HD camera and so are 720 x 1,280 in size. There are also large sets of digital stills at 1,500 x 1,000 so you don't go short on images to save and keep.
You also get well looked after for functions and features with an easy to navigate members area and network, there are drop-down lists of sites, guys and categories, there are linked tag words to help you and a search function. There are also rates and comments facilities, all the interactive functions you get with good adult sites, and there are also descriptions and details. The model index is network-wide so you might find yourself drifting off into another part of the sexy empire, but that's ok, it's very easy to get back to the bath house and hose yourself down after you've tasted some of the bonus porn on offer.
Bottom Line:
Ok, love the network, think the quality is great, love the way everything works and how it's all linked together and I love the bath house sex and all that group fun and bukkake stuff. Not so keen on the lack of recent updates and it would be nice to have some smaller stream options for slower connections, but otherwise: this is one hell of a site to join as it not only gives you exclusive content and great quality, it also lets you in to one of the top networks around.
VISIT Bath House Bait NOW!
VISIT Bath House Bait NOW!