The Universal Daddy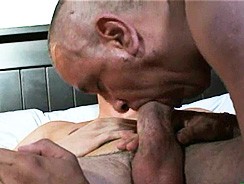 JUB Site Rating:
0 total vote





The Universal Daddy's Billing & Pricing
The Universal Daddy's primary billing processor: Ccbill
$19.95 for 30 days recurring at $16.95
$22.95 for 30 days non-recurring
$44.95 for 90 days non-recurring
$69.95 for 180 days non-recurring
VISIT The Universal Daddy NOW!
The Universal Daddy pays homage to the older man, the amateur guy, the muscled dad, the office boss, the silver daddy and all their lovers. It's a site that has exclusive videos of older guys together, solo, sometimes with a younger guy and it even allows a little twink action for variety. It's a new site on me so I'm really looking forward to having a good old delve around inside.
The members' area looks pretty similar to the tour, with a simple layout, a banner, menu and the latest video at the top of the page, and then sample shots of other videos and numbered index pages as your guide. The menu takes you to the blog, the model index and two bonus sites, but more about them later. First an examination of the movies.
These are set out on those numbered index pages, starting at the home page as number one. Click a number and the sample pics slide past, which is pretty neat, and thus it is easy to get right back to the first movie 'Boys in Leather' which, I guess, was the first one on the site when it started. I think that was in 2011 sometime, though it's hard to know for sure, but it certainly looks like the site is updating regularly. This older movie came with a low and a standard quality stream and one download option. Actually all the movies only came with one download option and that was WMV at around 1,100 kbps @ 640 x 360, sometimes with a higher bit rate, and in a zip file which you need to unpack. The stream screen was the same size for all three options, when there were three, and in more recent movies there's an HD stream too. Click up to full size and you should do fine for visual quality; even the low one isn't too bad at full screen.
You don't get much else with your movies apart from a small written introduction, I didn't see galleries and there were no interactive options. So it's pure and simple dad on dad, or daddy on younger, younger on Daddy, hardcore here. The men are richly varied, which is nice, with several straight guys, or at least straight looking amateurs getting in on the fun. I found movies ran for around 11 or 12 minutes or so and they had brief storylines in that there's a situation which develops into sex, rather than finding the guys going at it as soon as you click play. Some movies are not in English but they have subtitles, and some of the guys you see together are not 'dads' but they are still nicely amateur looking.
If you want to check out the models then use the model index where there are 51 white and Latino guys to browse. You have face pics here that lead to links to the videos each guy appears in. Again, there is no information and not stats, no detail and no way of finding out more about the guys you are getting off with. You can click easily over to the blog though, and there you have images of the guys in action and social networking links. Check out your two bonus sites: M2M Club where you have more ordinary amateurs, no porn stars and only real, hard sex, and the 'coming soon' Gay Truck.
Bottom Line:
For hot daddy sex, older guys, variety and decent quality streams and downloads of hardcore older men, sometimes with younger, The Universal Daddy does well. We like the way the monthly recurring membership goes down in price after the first month. A bit more detail, information, news and interactivity wouldn't go amiss, but apart from that we've got the beginnings of a decent 'daddy' site.
VISIT The Universal Daddy NOW!
VISIT The Universal Daddy NOW!