Banged By Daddy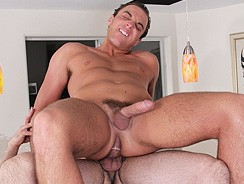 JUB Site Rating:
0 total vote





Banged By Daddy's Billing & Pricing
Banged By Daddy's primary billing processor: Netbilling
Banged By Daddy's optional billing processor(s): Paycom, Paycom E.u, Segpay
$1.00 trial membership
$19.95 for 30 days
$59.95 for 180 days
VISIT Banged By Daddy NOW!
The stars of this site are the dads, there are all kinds of guys getting involved with the horny action, but the top dogs are the muscled dads who fill the asses of their younger counterparts. Welcome to Banged By Daddy, one site in the collection of a small network (Skin Boys XXX) that lets you access five sites and a network hub when you sign up.
I slipped straight into the site I'd joined, and found the most recent videos listed. You can easily head off to other sites from a drop-down list at the top of the main pages, but I was home, ready for my hefty dads to get down and dirty. And I found six recent episodes featured. In fact I found six episodes period, with the most recent one having been added at the same time as all the others, six months ago. So, to be totally honest with you, I am not sure what's happening with this site and its updates. The slightly better news is that the network as a whole has 118 scenes to view and because of the nature of the other sites, you will find variety.
But meanwhile, back in the rather limited world of Banged By Daddy: I clicked to a scene to check its viewing options and found a very good selection. There were streams in mobile versions, Quicktime files, Mp4 and WMV with download options the same and everything apparently running at 3,000 kbps. The file sizes were around 600 Mbs in size and the transfer rate for downloads was speedy enough. The quality was fine though nothing particularly shone out at me.
However, some of the couplings were great. There was a very cute Latino guy with his older daddy servicing his cock well for a good length of time before daddy gave him the same treatment in return. Things moved on to the hardcore pretty quickly and the whole thing finished off just nicely. Other scenes involved slightly older, amateur looking guys with their dads and there was one interracial scene that was pretty hot.
Each scene came with a set of photos and generous amounts of individual images opened up to good sizes (683 x 1024) and were clear. There were slideshows to run in various speeds. Scenes also come with screen cap galleries which held less images and different quality ones, at 1,920 x 1,080 they were often larger than the digital shots. The site also had a model index which featured nine guys with good sized sample pics. Click one and you get to a profile page, where the stats were not shown, but where there were links to the guy's videos.
You can get slightly interactive with this site as there are places for comments and rates, you have an 'add to favourites' function and a search box as well, though with such a small amount of content there is not a lot to search. What was neat though was that all the other sites operated in the same way, so navigation and design is uniform. This means it is not confusing to browse the other offerings, though you may need to keep your username and password handy for when you want to enter a new site.
Finally, in the top of your menu, you will find links to a dating site that opens in a new window, and one to some bonus feeds. This page opens on a link and you need to click that link to carry on. When you do you will find a whole stack of non-exclusive videos to watch.
Bottom Line:
For me, I would like to know more about what is happening with this site and network, if anything. There are very few videos at Banged By Daddy and nothing to tell us if anything else is going to be added. You will find access to bonus sites and then lots of non-exclusive DVDs, and you will find good quality videos. Just not very many of them.
VISIT Banged By Daddy NOW!
VISIT Banged By Daddy NOW!