The Casting Room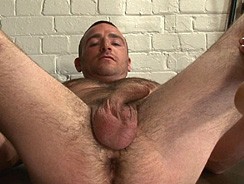 JUB Site Rating:
1 total vote





The Casting Room's Billing & Pricing
The Casting Room's primary billing processor: Verotel
$39.95 for one month recurring
(Processing fee 1.95 USD will be added to the subscription price)
VISIT The Casting Room NOW!
Now then, did the Casting Room used to be called something else? I ask as I am sure I've seen some of this before: horny, straight guys filmed in tough auditions (in the UK I believe) and shown here in interviews, auditions, jerk-offs and 'helping hands' videos. Ah yes! This site was called First Auditions and it looks like it's been taken over and slightly re-vamped by the crew from Breeder Fuckers, I recognise the style.
The original content dates back to 2005 and there are hundreds of guys and tapes to watch. In the old days, if I remember correctly, the guys were interviewed and then jacked one off the wrist for us, and that was more or less it. Now though it looks like it's getting tougher and more hardcore with scenes that are not just solo auditions; horny straight guys are put through their gay sex paces and sometimes that sex is a bit more than kinky. There are domination and humiliation scenes here as well as forced-sucking and solo scenes.
What's really nice about this site is that you can arrange to see the content in two main ways. You can either check the Latest Updates area from your top menu in which case you see all the scenes and auditions dating back to 2005 in date order. These are simple text links so it is easy to scroll down the page and see the list of names. Here you are also told what is a 'helping hands' video (where the straight guys gets jacked of by someone else).
Or the other way to find your content is by the All Men tab, in which case you have images of the guys, like a model index. You can see small pics or large ones. In the case of Small pics you see their nationalities listed in alphabetical order so you can find guys by country. (Something I requested when I reviewed the original site back in 2009 I notice; good to see they took that on board.) If you view by Large Images you still see the country flag and guys' face pics but not in alphabetical order, by date order I assume. I like the versions where you see the countries first because that highlights the variety of guys you've got here: from Afghanistan, through Bulgaria, Egypt, Greece, Latvia and Namibia to Yemen and Zimbabwe, and at the bottom of this list (where the guys from the UK dominate) there is a world map to make browsing easier.
Ok, so you've got variety of men, you've also got variety of videos to view with guys chatting before and after, guys jerking off solo style, the helping hands videos with straight guys getting milked gay-style and also some CMNM training where the guy auditioning is naked and the guys abusing him are not. To watch these movies, you will find a small but decent choice of video viewing options with WMV files and an in-browser Flash stream. Sizes are around 960 x 540 for this, which is decent enough and the download were often a similar size playing at around 1,500 kbps. I found the quality fine, the streaming speed ok and there were no viewing problems. You will find descriptions and introductions with the scenes, stats about each guy and a set of images with pics going up to 1,200 x 675 in size; clear screen caps most of the time. Older videos may not have as many viewing choices, may be of slightly lower quality and the images may be smaller, but I don't think you will have any quality complaints.
Bottom Line:
Basically, you are looking at thousands of videos, with each session broken down into various parts, galleries, content dating back seven years, hundreds of horny straight guys of all nationalities, exclusive content and, these days, some more hardcore elements coming in as well. Perfect for solos, humiliations and straight goes gay sex scenes, you should go and check out The Casting Room immediately.
VISIT The Casting Room NOW!
VISIT The Casting Room NOW!