Breeder Fuckers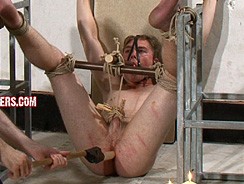 JUB Site Rating:
0 total vote





Breeder Fuckers's Billing & Pricing
Breeder Fuckers's primary billing processor: Verotel
$39.95 for one month recurring
(Processing fee 1.95 USD will be added to the subscription price)
VISIT Breeder Fuckers NOW!
Breeder Fuckers has been online since 2007 and since then it has been adding a new 'session' every week, so now we have 740 scenes and over 31,000 images. That's a great stacking up of past stock to view and the updates are continuing. But what's this site all about? Well, hold on to your hats because it's going to get a bit rough.
It's time to get revenge on straight men, guys who want to test out the bounds of their sexuality to see what the boundaries are, guys who want to push envelopes and seek out new worlds, to boldly let men go where no man has gone before, and all that. That's one side of it; the other side is that it's all about hardcore, nasty, hard-hitting BDSM, CBT, spanking, S&M, role playing, watersports and all other kinds of rough sex that you care to mention.
You log in and find the recent updates listed; these ran all the way down a huge page and went back six months. At the bottom of the page were some adverts to other humiliation sites, and at the top was a set of small face pics, and a box saying 'see more guys.' This is the way in to the previous content and it only took me a few minutes to work that out. There are 23 face pics and you can click one to go to that guy's pages and appearances, or use that main link to get to the archive of scenes. They call them 'sessions' here and there is a reason for that.
Each 'session' really is like more than a scene; a 'scene' suggests a beginning middle and end, a scenario, a stage play and acting. But what you have here is real. You will find interviews with the guys before the session giving you their expectations, hopes and fears and then an interview after the session where you get their reactions, how they now feel about what went on. And it is what goes on that makes Breeder Fuckers what it is. It is hardcore to the extreme, at times, it is totally exclusive and you are going to be hard pushed to find similar fetish, S&M material anywhere else. What you find on the tour is what you get inside, though you get more of it inside.
And you get to watch these exclusive sessions in downloadable WMV files that I found to be up to 2,600 kbps @ 960 x 540, and there are also Flash streams to view online. The ones I saw were around 1,024 x 576 in size. The visuals are good as is the sound and everything is well captured, clear and totally believable. You get some very cocky guys here who think they can handle anything and then who get completely taken down and humiliated. The guys making this content know what they are doing and are clearly experts in the field. (And occasional dungeon.)
Each movie ran for around half an hour and was accompanied by sets of images. These are all on the same viewing page so getting to them is easy. They clicked up to 1,200 x 675 in size and were screen caps, but generally good ones, showing the action well. And, while you are watching the scenes you can also comment on them and read what others have had to say. This comments facility is well used, going to prove that his site is very popular. I did find that I had to use my back button for navigation, rather than having links back to Home or Videos, but you soon get used to that system. Other than that, nothing got in the way of my, erm, enjoyment of these hardcore, sometimes violent, and always totally on the nail, sessions.
Bottom Line:
It's rough, but good quality, it's dangerous and yet within bounds, the guys are straight acting and hit the spot and for gay domination and humiliation, S&M and all that goes with it, you won't find better than these exclusive sessions.
Safe Sex Notice:
This gallery contains images of unsafe sex practices, also known as barebacking. Engaging in sexual practices without the use of a condom is a risky and unnecessary behavior. There are a lot of studios including the one listed on this page that film bareback or have bareback scenes in their content libraries. The images presented below should only be used for fantasy and you should not deceive yourself into thinking that "everyone is doing it." Further, you should not assume that just because you see photos or film content of barebacking that sexually transmitted diseases have been miraculously cured. HIV and other sexually transmitted diseases are very real and potentially lethal. Please practice safe sex in your own life and educate yourself regarding the dangers of not wearing a condom before having sexual encounters. Visit AMFAR for more information about safer sex.
VISIT Breeder Fuckers NOW!
VISIT Breeder Fuckers NOW!