Suite 703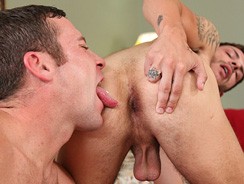 JUB Site Rating:
1 total vote





Suite 703's Billing & Pricing
Suite 703's primary billing processor: Paycom
$1.95 for three days recurring ($24.95 per month)
$4.95 for seven days recurring ($24.95 per month)
$24.95 for one month recurring
$95.40 for one year
VISIT Suite 703 NOW!
2011 Grabby Award winner for Best Mega Site, Suite 703 has come a long way in the past few years. This site is billed as your ultimate fantasy site and they have understood the fantasy niche perfectly. Working men, jocks, straight guys, married men, there are four major sites in this suite and they are all packed with exclusive hardcore featuring some top names, hot amateurs and horny first timers.
It's hard to talk about Suite 703 without sounding like a mad, crazed fan, but once you've tasted what they have on offer that is exactly what you turn into. You won't be able to get enough of their porn and you're going to love the way they set out their members' area. The quality here is top of the range, there are videos to stream and download, and there are several neat extras as well.
You start off at a home site for the network, because when you sign up to any one of the sites you get to access them all. Here I found the most recent network updates were shown, and then individual site updates beneath. You have a top menu where you can list the separate site if you want to browse them one at a time and it's worth saying here exactly what these sites are about: Hot Jocks Nice Cocks gives you some stunning, smooth and younger guys who are certainly jocks with cocks; there are older studs too and anyone with muscles will be found here in solos and hardcore. This site had 101 scenes. I'm A Married Man (I'm not, that's just the name of the site) has 66 scenes so far and takes straight guys and gay guys and puts them together in 'seduce the married neighbour' fantasy. It works brilliantly and there is great chemistry.
Men Hard At Work manages to butch it up a bit by giving us hard hats and checked shirts, office managers and other workers in its hardcore scenes and there were 111 of them when I called in. And finally My Brother's Hot Friend takes a horny new twist on the intergenerational theme where a younger brother gets to be alone with his older bro's often straight, older mate. There were 114 scenes here and the ones that worked best for me were the ones where the brother was a twink and the mate was a stud; though there are some more age-on-par couplings that work just as well.
So, nearly 400 scenes wait for you in this network and they all come with a superb array of viewing options. Select a scene from the index pages where the sample shots are a good size, and you come to a viewing page. There's your stream screen with a choice of resolutions and a trailer, and beneath this are your download options. There are full scenes, clips, a choice of players/files, mobile versions, Mac versions, and choices of resolution. No one should have trouble getting to see these movies. There are links to galleries as well and these are high resolution with a choice of online viewing or zip file downloading. Like the videos, images are clear and the quality is good.
In fact the quality of everything at Suite 703 is outstanding; these are perfectly shot hardcore movies with perfectly formed models, there are good stories, and neat fantasy set ups, even some good acting. The sex is high octane and won't let you down, and you're able to get involved with your membership as well. I mean, you can rate and comment, there is a members' poll and you feel like you are part of a community. Particularly as there is a members' forum to use and you are actively encouraged to join in.
Bottom Line:
Suite 703 has got it all: four top fantasy sites with some of the horniest quality hardcore videos around, and a members' area that is a dream to use, interactive and where you feel part of something special. You are, and all for a reasonable monthly price too. My recommendation is: go and join now.
VISIT Suite 703 NOW!
VISIT Suite 703 NOW!