3d Boyfriends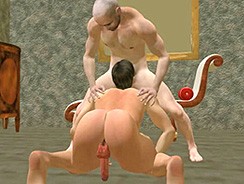 JUB Site Rating:
0 total vote





3d Boyfriends's Billing & Pricing
3d Boyfriends's primary billing processor: Ccbill
3d Boyfriends's optional billing processor(s): Paycom, Paycom E.u
€1.01 for a three day trial, recurs at €34.95 per month
€34.95 for one month recurring
€59.95 for three months, recurring
VISIT 3d Boyfriends NOW!
I have to be honest with you and say that this is a bit of an odd site and, if it were advertised on its own, would not get a very good rating from me. But, because it is only one site in a network of eight, and as it is so different from most other sites out there, it is worthy of a good look.
What you have at 3D Boyfriends are, currently, 13 computer generated, animated, men appearing in 25 one minute clips. These are hardcore, the guys are varied and there is some interesting action, albeit rather repetitive. You've got short Flash animations of one guy bonking another, basically, and it doesn't take long for you to get the gist and feel like moving on. I'm not knocking the site, I like what it offers us, and it is still very new; it is updating every day at the moment, and it has variety in that there are interracial animation as well as varied 'boyfriends.'
The quality of these animations is fine, the artwork is good and is professional, the stream is fine at full screen and you've got a choice of qualities to stream in. There are downloads as well, for WMV and Mp4 and there are also mobile compatible files. You can jump through the stream when it's playing, and the downloads happened very speedily. So, no problems there.
But we are still currently left with a small site that doesn't actually do very much. And that's where the rest of the network comes in. You will be pleased to know that there is a bigger Anime, toon, animation, Hentai site included with your membership, Yaoi Place where your wild, Japanese, Yaoi fantasies are played out. And there are six 'real' sex sites as well. You've got Euro Twinks, and amateurs, a wide variety of all kinds of hardcore and in each site you have the same good viewing options.
You find the list of bonuses on the homepage, where update news is also featured, and each site opens in a new window. They all have the same excellent functions. Members can not only rate and comments, use the 'add to favourites' function and category lists, but you can even re-order what you see on the index pages, and decide how many samples per page you want to see. You've got top lists and suggestions for similar scenes and there is even a function where you can click to see what you have recently seen, and what you have recently rated.
For further extras, in 3D Boyfriends, you have links to three toon themed feed sites. But when you click into one of the other sites you find other feeds to view and a link into a DVD theatre that has over 200 more scenes, and updates are happening there as well. So, all in all, though here's not yet a lot of this computer generated sex in this one site, you've got lots of other toon and real content to view in your easy to handle bonus sites.
Bottom Line:
At the end of the day I concluded that 3D Boyfriends is a fun add-on to a good network. These animations are short and repetitive but fun to glance at, and when a new one is added you can take a minute out of your schedule for a quick look. The quality is fine and you've got great viewing options. But in the main you should see a sign up here as a way in to a big and growing network of general, twinky, gay porn that also has a couple of animation sites attached.
VISIT 3d Boyfriends NOW!
VISIT 3d Boyfriends NOW!