Back Room Fuckers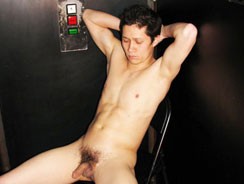 JUB Site Rating:
2 total vote





Back Room Fuckers's Billing & Pricing
Back Room Fuckers's primary billing processor: In House
$24.87 for 30 days recurring
$69.84 for 90 days recurring
$124.87 for 180 days non-recurring
VISIT Back Room Fuckers NOW!
It's all about getting raunchy at Backroom Fuckers, hardcore and sleazy entertainment that is exclusive to the site. This content reminds me of the old days, back in the big cities like London or Berlin, where Saturday nights would be spent on the prowl, at the darker, seedier clubs where anything goes. I say the old days, but it all still goes on and a lot of this content is so reminiscent of that type of place that you get the impression it is filmed as it happens; it probably is.
The kinds of things you see on the tour are exactly that kinds of things that go on inside, so that's all well and good. The only downside about the site though is that it doesn't update nearly often enough and you are going to be left wanting more. There were 35 videos and 32 photo sets when I was in the site and nothing had been added for several weeks. But what you do have is well worth seeing.
There's leather action, glory-holes, hardcore fucking, guys with tattoos, ass fingering, blow jobs and cum swallowing and the cast is made up of ordinary looking guys. Some are younger and definitely twinky while others are older and studs, or nearly 'dads' with muscles and attitude. There is probably more glory-hole action than anything else here and I found some of these scenes a bit too 'set up' to be real, while others came across as very realistic, filmed in situ rather than in a studio.
When it comes to viewing you have WMV and Mp4 files, plus a Flash stream. The download speed was fine, at around 212 kbps for me and the files I found were a decent quality. There were, for example, some at 2,000 kbps @ 640 x 480. The stream will go full screen if you want it to but there was some loss of quality here. I also found some iPod compatible movies which were nicely formatted and these scenes, and others, came with a kind of written intro, a bit like the start of Star Wars, 'a long time ago in a Berlin backroom... ' or whatever.
On the whole Backroom Fuckers, though small and not growing very quickly, fulfils its promise of hardcore, backroom type action, with all kinds of varied, amateur guys. The scenes are natural, the viewing options are fine and the runtimes are good. Galleries hold various numbers of images and there are screen caps with the movies, though not many per scene. Gallery images clicked up to 1,125 x 1,500 in size and were decent enough considering they were often taken in dark rooms, or actual toilet stalls for the BJ through the wall shoots. They were also easy to navigate and the pics loaded up nice and fast. You can rate them, as you can with the videos, and you are also invited to make and read comments. You have a Favourites area to store your best scenes in and a search box to use, though as there isn't that much content you probably won't need that.
Your membership also gets you in to 38 feed sites that are varied, and to a bonus site, Daddy Raunch. These little additions make for slightly improved value for money.
Bottom Line:
Backroom Fuckers could do with a more regular update schedule, but apart from that, and the fact that there isn't that much content, you've got something here that will keep you hard and happy for a couple of weeks. There are exclusive scenes and guys in them, horny amateurs, a right old mix of cast, and some dark and backroom themed fantasies to get off too.
Safe Sex Notice:
This gallery contains images of unsafe sex practices, also known as barebacking. Engaging in sexual practices without the use of a condom is a risky and unnecessary behavior. There are a lot of studios including the one listed on this page that film bareback or have bareback scenes in their content libraries. The images presented below should only be used for fantasy and you should not deceive yourself into thinking that "everyone is doing it." Further, you should not assume that just because you see photos or film content of barebacking that sexually transmitted diseases have been miraculously cured. HIV and other sexually transmitted diseases are very real and potentially lethal. Please practice safe sex in your own life and educate yourself regarding the dangers of not wearing a condom before having sexual encounters. Visit AMFAR for more information about safer sex.
VISIT Back Room Fuckers NOW!
VISIT Back Room Fuckers NOW!