Men On Edge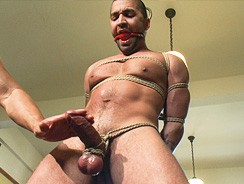 JUB Site Rating:
1 total vote





Men On Edge's Billing & Pricing
Men On Edge's primary billing processor: In House
$34.99 per month
$59.99 for 3 months
$99.99 for 6 months
$169.95 for 1 year
VISIT Men On Edge NOW!
Men On Edge comes to you from Kink.com, a big and bold fetish network that covers all kinds of kinky activity. Here it is all about orgasm control with hard bodied, tough guys brought almost to the point of shooting their loads, and then denied it. The content is exclusive, the quality is great and there are many extras and bonuses. Here are the basics:
The tour is like the members' area so you can see what to expect before you sign up, or before you buy a scene if you want to do it that way. You can sign up for various lengths of time, or you can purchase scenes as you go. I'd go for a longer term membership though as there is a lot going on and you get to access the Kink network which includes five other hardcore BDSM and fetish sites, and a live show that is exclusive to the company.
The Updates tab in the menu is the place to go to find the movies and galleries; they are combined per episode so there isn't a separate gallery area. When I visited the site it was only a month or so old and had 12 episodes, this is the latest addition to the Kink network, but you can expect it to grow at the rate of one scene per week from now on. Scroll down the index pages and you will get a good idea of who is in each scene and what goes on. You can view a trailer, download clips, stream the entire scene and click to the images. I found various ways to download including Mp4 files and a high quality WMV at 7.15 Mbps @ 1,280 x 720. There is also the good quality stream, and a medium and small stream too, so I reckon everyone should be able to get to view these scenes with very little trouble. If you do run into problems then there is plenty of advice and help on hand.
The really neat thing about them is the length; some are over 70 minutes. This includes a chat with the guys before and after the event, all the preparation and then a huge long agonising time as he's brought so close to coming you can hear him gasp, and then groan as he's left hanging there, on the edge, waiting for release. Begging for it sometimes. This is hardcore fetish stuff, so expect guys bound, dildos inserted, toy-play, gags and blindfolds. It's about men dominating other men, it's brutal and it really works.
Galleries are arranged into scenes, so that's scenes from within episodes, and Piclens is enabled if you have it. If not you have zip files and easy navigation through the large sets of digital stills where quality is not an issue.
As a member you get to join in the fun with comments and a forum. This is an interactive place to hang out and you're going to find loads of other members who share the same interests as you. You can also apply to be a model if you think you have what it takes and if you can take what Kink has. And as for your bonus sites, access to Men On Edge comes with access to Bound Gods, Bound in Public, for some heavy BDSM action, Butt Machine Boys for mechanically driven dildo action, Male Wank and Naked Combat for more hard and horny guys with real wrestling matches that lead to really hard fuck scenes. It's great value and all good quality. Then you can add in the live shows for even more value, and there's a message on your banner telling you when the next show will be on.
Bottom Line:
Another triumph for Kink.com I think, with long videos, interviews and the all-important climax-denial aspects to quality movies. It's easy to access, and navigate, updates are weekly and there are five gay bonus sites plus live shows included.
VISIT Men On Edge NOW!
VISIT Men On Edge NOW!