Hairy And Raw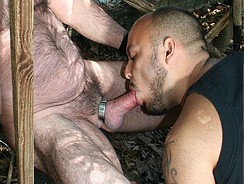 JUB Site Rating:
0 total vote





Hairy And Raw's Billing & Pricing
Hairy And Raw's primary billing processor: 2000 Charge
$7.95 for three days, renews at $19.95 per month
$19.95 for 30 days, recurring
$29.95 for 30 days, non-recurring
$52.95 for 90 days, recurring
$68.85 for 9 days recurring
$99.95 for 180 days, non-recurring
VISIT Hairy And Raw NOW!
It's actually all very simple at Hairy And Raw. You are looking at hairy bears in condom free, raw sex videos that are exclusive, and you've got streams, images and a model index, with links over to where you can also buy bear DVDs. There's no downloading here but there is a very reasonable monthly fee so you can stay a member for as long as you want.
What you see on the tour is more or less the same as what you see when you log in to the members' home page. Here there's a top menu taking you across to all the videos, models, extras, photos and store and the most recent update will be featured top of the page. As you browse around you find out that you're never more than a click away from a recommended scene, or something to view, but you might want to check out the exclusive videos first, to get an idea of the action.
The action is all hardcore and bear-bareback. These guys are big, chubby, furry and fanatical about raw sex. You've got big, butch guys with beards men with hairy backs, chests and legs, hung hunks and leather, harnesses and slings, and all the attachments that go with heavy hardcore. So, what you are promised on the tour is what you find inside here. Click the videos link from the drop-down in the menu and you currently find 34 movies to view. These are shown with sample pics and upload dates, and updates have been regular at one a week. You can also see the members' ratings here and give your own rate when you've seen the video. Select one and you are into the viewing page.
As I said, these are streams only with no downloading. There is only one choice for viewing, but it seems to be set at a medium rate and size (around 600 x 300) and I had no trouble with buffering when I was viewing, but if you are on a really slow connection you may have some waiting to put up with. I found full screen was fine and movies ran for around 10 to 17 minutes. You're not able to jump through them with the slider, if you try that you get sent back to the beginning of the movie. You've got a description of each scene, and you are able to leave comments about what you see. You can also add scenes to your favourites area. Models' names are linked to their listing in the model index where you can also find any other scenes your dream bear has appeared in. There were 85 models when I was in the site.
For photos you have Model Pics with 85 galleries, one per bear, and Action Pics which are shots from 31 of the movies. There are various numbers of images per set and you get thumbnails leading to individual images in new windows where you can scroll through. Like the videos, the quality was fine and images were up at 1,024 x 682 in size.
Finally, you can click into the Hairy And Raw store for a browse around and find their exclusive DVDs for sale, plus clothing, and I noticed you could search by price and check out special sales offers too.
Bottom Line:
On the up side you get 100% hardcore, raw bear action at Hairy And Raw and the members' area lives right up to the expectations of the tour. The quality is good, and there are regular weekly updates. On the downside though you can only stream the movies and there are not a lot of them as yet. But for bear lovers and fans, this is a site you really have to see.
Safe Sex Notice:
This gallery contains images of unsafe sex practices, also known as barebacking. Engaging in sexual practices without the use of a condom is a risky and unnecessary behavior. There are a lot of studios including the one listed on this page that film bareback or have bareback scenes in their content libraries. The images presented below should only be used for fantasy and you should not deceive yourself into thinking that "everyone is doing it." Further, you should not assume that just because you see photos or film content of barebacking that sexually transmitted diseases have been miraculously cured. HIV and other sexually transmitted diseases are very real and potentially lethal. Please practice safe sex in your own life and educate yourself regarding the dangers of not wearing a condom before having sexual encounters. Visit AMFAR for more information about safer sex.
VISIT Hairy And Raw NOW!
VISIT Hairy And Raw NOW!