Emo Twinks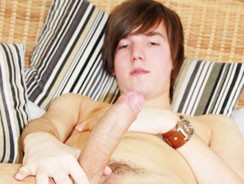 JUB Site Rating:
0 total vote





Emo Twinks's Billing & Pricing
Emo Twinks's primary billing processor: In House
coming soon
VISIT Emo Twinks NOW!
The thing about this site is that when you buy into it you actually get to access the whole Emo network, so you will also be able to access Homo Emo, Emo Scene, and Exposed Emos; four sites for a very reasonable price, particularly as the content is exclusive. You can take a couple of trial offers if you want but these limit you to only five full scenes, so I'd suggest going for the full package right off the bat. Especially if you're into Emo boys or twinks.
Emo Twinks looks like it's the newest of the bunch and I say that for a couple of reasons. These sites have been set up so that when you first enter you come to the network home page and from there you can simply browse through the list of all the content (around 200 scenes and counting). But when you want to see content according to its own site you go to the Sites page and select from there. If you choose, for example, Exposed Emos you then get to that site's home page where you have a filter facility so you can easily find the content you want, or jump to another site. But when you click on Emo Twinks in the Sites page, you don't yet get any results. That leads me to believe that the site is so new it's not stared putting up its own content yet.
Which means I have to tell you about how the network runs instead, and then, by the time you read this, you may well find that there is actual content on Emo Twinks. So, judging by the rest of this alternative network you will find:
Exclusive scenes starring young, skinny, hung and alternative Emo boys. The Emo coming from 'Emotional' or 'Emotion' as these boys are not hard punks, but nor are they standard preppies. If you know your Emo then you will know him to be sexy, erotic, emotional, calm and caring with a twist of dyed hair, piercings, maybe a tattoo and perhaps a bit of a Goth attitude. Oh, and a love of sex as that's what these sites are all about. Young guys enjoying solo moments or hardcore action with each other.
When you come to view a scene you find that you have information, linked tag words for easy searching, up to six choices for downloading including HD versions, and four streams including a high definition version. The quality is fine, the action is full on, usually with the occasional storyline, there is an 'add to favourites' function and you are able to rate scenes too. They run for standard lengths of time and come with image galleries that hold large numbers of images at 1,000 x 667 in size. These have automatic slideshows attached, but you can control them. And the videos have a really neat feature where you can make up your own play lists, selecting start and stop times for clips and then storing them and sharing them with others.
And that's another thing that stands out about this network; you can get involved. You've got an account area where you can make up your own profile, and choose the way you view the site, it's fully functional and has great extra features. Zip file downloads are included with the photo galleries, and there are an additional 10 of these, there are 88 boys in the model index where you can read some background and also rate each guy, 120 bonus scenes (not necessarily Emo themed, but pretty hot), and access to a members' forum as well. Just about all you could wish for in an adult site.
Bottom Line:
As far as I can make out we're ahead of the starting pistol here and Emo Twinks hasn't yet started up, although it is advertised and listed as a site within the network. So while you wait you've got 200 other hot Emo hardcore and solo scenes, excellent quality and regular updates. In a word: brilliant.
VISIT Emo Twinks NOW!
VISIT Emo Twinks NOW!