Straight Men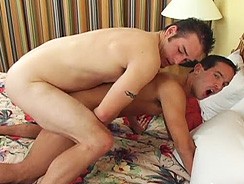 JUB Site Rating:
0 total vote





Straight Men's Billing & Pricing
Straight Men's primary billing processor: 2000 Charge
$9.95 for 30 days recurring
$29.95 for 30 days non-recurring
$49.95 for 90 days non-recurring
VISIT Straight Men NOW!
You've got something nice and simple and straightforward here; no messing around, no false promises, no glamour or glitz because it is not needed. Just one simple idea: take some amateur straight guys and put them in porn shoots for the first time. Film them, chat to them, and then display them in a members' area that updates with a new guy or scene each week.
That's basically what Straight Men is, it is a site where all kinds of varied amateur guys who are straight or gay-curious, maybe bi, come to be filmed. And we get to enjoy the results. I slipped in easily to the members' area where I landed on a nicely laid out home page. There's a top menu that's easy to read and it takes you to home, which is the first of the index pages for content, to a contact place, a page of links and your favourites area. There's also a list of models by name and a category list, so you can filter out your content that way. But I started at page one and worked back.
The large sample shots on these index pages are big and clear and came with upload dates. I always like to see that as I can keep track on how often the site is adding content; and it looks to be pretty regular with 53 scenes added over the last year; give or take. The sample shots show me an image of the guy or guys in the scene and I can immediately add it to my favourites area. This is something I do a lot: I browse a site with such excitement when I first log in that I have to add guys to the favourites area. If you think 'I'll remember him and com back later' you rarely do, and then you spend hours of valuable jerking time looking for him, especially on big sites.
This site is not that big though, but I still found many a guy I wanted to add to my collection for later. Like Beau Racer in his audition tape, or the Ryan Andrews and Eddie Stone hardcore scene. Not all of these 53 movies are hardcore or even solo shoots, some are 'behind the scenes' movies and interviews. But the titles will tell you what is what. I went to watch one of these hardcore scenes and found a steaming player that had three qualities for viewing; the middle one went full screen with not too much loss of quality, the high resolution one was fine too. Within the player was a function to jump around, and you're shown thumbnails from the action, so you can move about the scene as you view.
Movies come with galleries that you can take in zip files for ease of collection, and there are also images that will open online. I found these to be screen caps at 680 x 450; galleries held around eight images each and they, along with the videos, had a short description. Like the rest of the site, the galleries are very basic but looked fine.
I didn't find much else here at Straight Men though I did enjoy the site. There are a lot of interviews and chats so you get to know the guys, there are some great solos, toy play and hardcore scenes, and the men are all perfectly horny. The quality is decent, though you can only stream, and the galleries I saw had screen caps. There's not a lot of other information, no extras and not much interactivity.
Bottom Line:
But, for hunky straight guys, who are varied in looks and body types, for interviews, backstage looks and some streaming-only hardcore, and for a regular weekly service, then this site does fine.
VISIT Straight Men NOW!
VISIT Straight Men NOW!