Cristian Torrent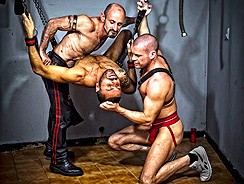 JUB Site Rating:
0 total vote





Cristian Torrent's Billing & Pricing
Cristian Torrent's primary billing processor: Paycom
$14.99 first month then $9.99 per month
$14.99 for one month, non-recurring
$5.00 for 30 minutes, non-recurring trial
VISIT Cristian Torrent NOW!


Well, to start off you can take a 30 minute sneak peak for five dollars; that might sound like a pretty short trial but it should be enough to get you interested. Or, you can go for the monthly sign up which drops dramatically in price after the first 30 days; the one-time charge for a month is the same too, so you've got nothing to lose really.

And then, once inside, you find a simple set up with numbered index pages and each scene is shown with a sample shot and title. (Once you have signed in you will escape the music that plays on the tour, but watch out for then going 'Home' as this will take you back to the tour/home/music page.) I found 118 pieces of content when I called in, with the first piece being released in July 2009. Even this older movie had the same viewing options as the more recent content and these options are good. There is a stream to take, it is standard size, reasonable, but not great quality, but will suit most connections I guess. And then there were five download options, some as big as 1.5 Gb in size, others for WMV, high and low resolution, and Mpeg4 files for mobiles and other devices, so you should have no problems finding something to suit; though you may have a wait for the file downloads.

As for the content itself, there is a wide variety of kink and porn here; there were fisting scenes, including Christian's first ever taking a fist, there are fetish moments, hardcore 'story' scenes with characters and set-ups, solos, workout videos (non porn), Latino guys, hardcore leather men, threesomes, slings and harnesses, outdoor shoots, and backstage footage to. It's a real old mix of stuff from days in Christian's lives, which makes it all the more interesting to browse around. You never really know what you are going to get next. You get some info about each scene, though not a lot, and there is an upload date too. If you want to get involved though you can apply to be a model from a link in the top menu. Up there you also find a link to the model index. A quick look at his shows you that you're in for muscled men, smooth tattooed, hard and moody, big and beefy. Nice.

I have to say that I did find the design of the site a little bit on the amateur side. You should see what I mean from the tour; it all looked a bit homemade and not brilliantly set out. The boarders around sample shots clutter up the pages and distract from those samples, and the download buttons, for example, look a bit old school against today's swish website designs. But on the other hand, everything worked and that's the main thing.

Bottom Line:
A European porn actor and producer shares his dark and fetish, hardcore and solo work, and his life, with us at this unique site that contains exclusive content. It's easy to use though not very interactive, it's not expensive and you get a loyalty discount when you stay more than a month. There are great movies to collect and the site is being updated.
VISIT Cristian Torrent NOW!
VISIT Cristian Torrent NOW!