Big Daddy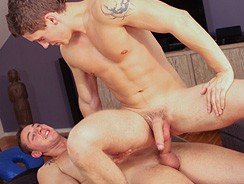 JUB Site Rating:
1 total vote





Updated: 2012-04-18
Primary Categories: Multi Site Networks
Secondary Categories: Bareback, Big Muscles, College Men, Fetish, Gay Hunks, Gay Porn Stars, Group Sex, Hardcore, Straight Men, Video Downloads, Video On Demand
289 Galleries
426 Videos
Big Daddy's Billing & Pricing
Big Daddy's primary billing processor: In House
$1.00 for a two day trial - renews at $39.00 per month
$29.95 for one month recurring
$119.40 for one year, renews at $99.95 per year
VISIT Big Daddy NOW!
Big Daddy is actually a network of 13 sites that contain exclusive and original movies and pics. I say both exclusive and original because not only is the content shot just for the company, but some of the sites have very original content and themes. You sign up for a pass and then you're in, but you do have to watch out for the pre-checked cross sales on the join page; if you are not careful you find you've also joined Haze Him at a recurring membership, and I found that site was included in my list once I was logged in anyway. There is also a trial membership which has a recurring price higher than the standard monthly one. Go for a monthly membership is my advice.
So, I'm inside and there are sample pics from Big Daddy, Bait Bus and Haze Him. There is also one for Gay DVD and this, on the face of it, looks like a bonus DVD theatre; but it turns out not to be included and you have to pay more to access it, though there is a discount offered. So, I clicked to Big Daddy and found a members' area that was very functional and well laid out. There are all kinds of sort and search options here, you can see what's being watched right now, you can order content by recently viewed, year and most liked, or you can click the 'Websites' browse button on the page and see what the included sites consist of.
Check out the tour for quick rundown of the sites available to you and you find they include: Bait Bus where guys get paid to have sex on a moving bus; Bareback attack for rubber free session; Butter Loads, for cum play and facials; Ex BF for allegedly homemade content; and Haze Him for hazing and initiation sex. There are then eight more that include straight guys tricked into glory hole sex with guys, a massage site where the sex is long and slow and erotic, interracial sites, one where the sex happens in very public places and another sex on a bus site. All exclusive movies and pics and all linked within the same window so you never get lost.
And as for viewing: you've got full movies, trailers and chapters to stream, three qualities of streaming too, plus three MP4 downloads, a mobile version and a WMV one as well, so you should have no trouble in actually getting to see the movies, and in the network there are around 554 of them to view. The quality is good, depending on the site (some of the out and about filming is 'on the move' though the quality is still fine), there are HD movies offered and I found the quality and viewing choices were just as good on the older content as it was with the recent stuff. Also, updates are happening in various sites at various times, so there is always something new to watch.
Where Big Daddy does really well (apart from the sex) is the way it makes it easy for you to browse and search, find content and move around the sites. There are category lists, drop-down site lists as well as a menu, and there are search boxes and many sort options too. Tag words are given with the movies as well so you can click one and filter other scenes according to that word. Atop the main pages there is a place where you can leave feedback in a questionnaire, and there is a Favourites area too. You can add scenes here but I didn't see any rates or comments, apart from the Like button you can use beneath a streaming viewer.
Images come as screen caps and digital stills where the quality is better and you can browse them online or download zip files, either way it's easy to get to them and there are some collectable pics in the sets.
Bottom Line:
This is a good value network of original and varied porn, but watch out for the sign up process as you may find yourself joining another site (which appears to be included anyway). But once you are through that, you are in for a lot of good quality content that is well made and great fun to watch.
Safe Sex Notice:
This gallery contains images of unsafe sex practices, also known as barebacking. Engaging in sexual practices without the use of a condom is a risky and unnecessary behavior. There are a lot of studios including the one listed on this page that film bareback or have bareback scenes in their content libraries. The images presented below should only be used for fantasy and you should not deceive yourself into thinking that "everyone is doing it." Further, you should not assume that just because you see photos or film content of barebacking that sexually transmitted diseases have been miraculously cured. HIV and other sexually transmitted diseases are very real and potentially lethal. Please practice safe sex in your own life and educate yourself regarding the dangers of not wearing a condom before having sexual encounters. Visit AMFAR for more information about safer sex.
VISIT Big Daddy NOW!
VISIT Big Daddy NOW!