Tx College Boys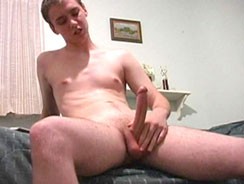 JUB Site Rating:
0 total vote





Tx College Boys's Billing & Pricing
Tx College Boys's primary billing processor: Ccbill
30 days for $22.95; re-bills at $19.95 per month
30 days, non-recurring: $24.95
90 days, non-recurring: $50.98
180 days, non-recurring: $74.95
VISIT Tx College Boys NOW!
Here we've got Steve Mayer's homemade stash of college boy videos made available, and for some attractive sign-up prices as well. The story goes: Steve grew up in a Texan college town, realised there were loads of hot guys needing money, started filming them on his camcorder, got his work noticed by a production company, then set up his website so we can all now enjoy amateur, horny, college guys from Texas. It's as simple as that.
And it's a pretty simple members' area as well, with large sample shots and a straightforward top menu taking you to the Videos, the Classmates and the About page. The home page shows you recent updates with the models' names and the upload date, and updates seem to be coming in around once per week, sometimes two per week. There are 38 videos at the moment, dating back to the start of the site in December 2011.
These movies are a mix of solos and action, with college guys in each of them, mostly white but with some interracial moments as well. When you click to view a movie you get a viewing page that holds a good write up, some background to the guy, or guys, in the film so you discover how it all came about. There are also links to the models so you can click across to the Classmates area and find any other scenes he may appear in. Beneath all this is your set of viewing options, and these are pretty extensive. There are large and small versions of each for WMV, Quicktime, Apple Devices and Streams in Flash. I found resolutions and sizes of 1,500 kbps @ 640 x 480, and movies running for around 20 minutes for action scenes and 15 for solos.
They are neatly made, with very simple and realistic camerawork; a camera roving around as the guys chat at the start of the show and then keeping with them all the way through. It's not high-end cinema, but it is decent enough amateur filming. The guys are natural, the chats at the start of the movies give you a good feeling for them and you start to get to know them a little, and it all works perfectly well.
There are images beneath the viewing options and these, like the Flash streams open in a floating player. There are basic navigation tools here, plus zip file downloads, and sets hold various amounts of images, though not hundreds. Image sizes varied as well, and they had the appearance of screen caps.
The model index, the Classmates area, holds face pics of 44 guys so far, and they are all young, college aged and somehow even college-looking, though they are varied. Short hair, long hair, black, white, stocky, slim, they all come with a basic set of stats and a little written intro as well. I have to say that TX College Boys is one of those sites where you easily find the guys from the tour. You will have no trouble tracking down the sexy men in this site, even in a few months' time when it is bigger it is still going to be easy to use. I'd like to see some more interactive options; with a site like this that comes across as nicely personal, it would be good to be able to comment, rate the guys or even have a forum to get into. Meanwhile though you've got exclusive and good viewing and updates are happening regularly too.
Bottom Line:
TX College Boys is a good, solid site that is growing all the time. The guys are spot on, genuine amateurs and often on camera for the first time. The filming is standard amateur quality, there are good viewing options, there are screen cap images and a neat model index with some basic stats. In fact, it's all very basic and simple and that means there's no messing around: it's hot college guys all the way, just as promised.
Safe Sex Notice:
This gallery contains images of unsafe sex practices, also known as barebacking. Engaging in sexual practices without the use of a condom is a risky and unnecessary behavior. There are a lot of studios including the one listed on this page that film bareback or have bareback scenes in their content libraries. The images presented below should only be used for fantasy and you should not deceive yourself into thinking that "everyone is doing it." Further, you should not assume that just because you see photos or film content of barebacking that sexually transmitted diseases have been miraculously cured. HIV and other sexually transmitted diseases are very real and potentially lethal. Please practice safe sex in your own life and educate yourself regarding the dangers of not wearing a condom before having sexual encounters. Visit AMFAR for more information about safer sex.
VISIT Tx College Boys NOW!
VISIT Tx College Boys NOW!