Jalif Studio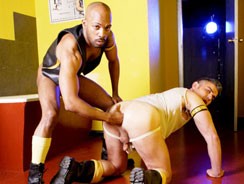 JUB Site Rating:
0 total vote





Jalif Studio's Billing & Pricing
Jalif Studio's primary billing processor: Ccbill
$5.95 for a three day trial, recurring at $29.95 per month
$29.95 per month, recurring
$59.95 for three months, recurring at $49.95 every three months
$89.95 for 180 days, non-recurring
VISIT Jalif Studio NOW!
Jalif Studio is something special, not least of all because it is one of the few studios around that specialises in Spanish men. We don't mean Latinos, per se, we mean real amateur and styudly men from Spain. Have a look around the tour and you will see these hunky Hispanics in hardcore, ass eating, fetish and cum play action, in exclusive movies and all for a decent membership price. Though watch out for pre-checked cross sales when you sign up.
During my horny visit just now I found 70 movies and these were a mix of solos and action. It was quite impressive to note that the first had been uploaded only three months ago (it's a new site) and that the site has been uploading new content every week since. You get a sample pic, a few details and a members' rate per movie on the index pages, and you only have to click once to find the full viewing options. What you then find is a page with more detail: a write up, a streaming screen with three choices, three for downloading too, a link to where you can buy the hard copy, links to the models and a set of images from the scene that click up to 1,000 x 1,500 when at full size. Select your stream, click and away you go.
Quality? Fine. Action? Varied and also fine, or better than fine if you like hung meat and hardcore. There are some 'storylines' going on, but nothing intrusive or tacky. It's basically a couple of guys meeting up, or already at home, in the club or bar and then getting down to the sex. It works well, and there are high production values so you end up with decent quality movies that stream with no problems and that run for a goodly length of time.
Members also get to access some extra footage, some background 'making of' footage which is worth seeing as it brings you closer to the guys you are getting off with; and it's generally interesting to see how a film is put together. You also find Photosets in your easy to use top menu and these numbered 38 when I called in. These sets were linked back to the movies from which they came and numbers of images varied, up to 150 or so per set. But if you want more photos, and ones that you have not seen already with your movies, then check the model index and individual guys' photosets. There were 47 men here and one thing I will say for them: their cocks are very distracting. Hard or soft these Spanish studs seem to be all cock and balls, smooth, hairy, you name it they've got it going on and dangling down. Top viewing for sure, and the galleries of photos make sure you get up close and personal. Again sizes are good (of the photos) and the quality is fine. You also find links to the guys' movies from this model index, plus an individual write up about each guy.
Checking out other neat things about this site I found a list of models' names in a drop-down, and a category list for filtering. You are able to rate the content but I didn't see comments or 'add to favourites' functions, images came with very simple navigation buttons, there is a blog to check, upload dates are published and there were no technical problems.
So, the bottom line here is that you've got a horny set of Spanish guys in hardcore scenes, some of which have a fetish bent, you've got good stream and download options, weekly updates and quality is assured. Bonus sites give you even better value for money.
Access to Jalif Studios also comes with free access to Alpha Male Fuckers, Bull Dog Pit, World of Men and Brash Boys.
VISIT Jalif Studio NOW!
VISIT Jalif Studio NOW!