My Gay Boss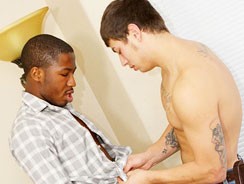 JUB Site Rating:
0 total vote





My Gay Boss's Billing & Pricing
My Gay Boss's primary billing processor: In House
65¢ / day - 3 Days Membership (Total Charge: $1.95) recurring and limited
70¢ / day - 7 Days Membership (Total Charge: $4.95) recurring and limited
83¢ / day - 1 month membership (Total charge) $24.95
55¢ / day - 3 Months Membership (Total Charge: $49.95) recurring
VISIT My Gay Boss NOW!
My Gay Boss is the place to come to live out all your office sex fantasies. Whether it's the rugged, handsome guy in the suit or the office junior who puts the lead in your pencil, you are going to find some pretty hot scenes at this great site. And it is a great site, and one I highly recommend. That's because of the value. There are various sign up offers, watch out for the limited trials and go for a full membership, and your login will get you in to a total of three sites and three networks, with feeds and extras on top.
Start off at the main home page and use the advanced search function to find the main content for My Gay Boss. If you 'view all' you find over 110 that come from the three main sites under the Phoenixxx banner, this site, plus Bang Me Sugar Daddy (new) and My Husband Is Gay. I found 51 office sex themed scenes here and I was totally impressed with how they were presented.
There are two things I appreciate in a good adult site, one is the porn of course and its quality, and the other is the way it is presented. I like to feel a part of something and I like to be able to use my sites. Here you find that you can rate the content, add things to a favourites area and use the interactive Account function that they have recently added. You find no trouble with navigation and there are loads of handy tools like linked tag words for easy filtering, plus some neat search and sort options. It's all set out in a good looking set of pages in a fully interactive console and everything technical works just fine.
And things get even better when you get to the viewing pages for the scenes. You can stream in up to four qualities including low for slow connections and 720p for higher ones; you can download in up to six choices as well, with Mp4 files from low to 720p and two choices of WMV. You're really well looked after with viewing. And what you see is good quality too, with handheld camerawork, good performances, some very neat set-ups and decent acting, as far as it goes, with some top models of all ages and builds appearing. You can even make up and share your own playlists, starting and stopping the action where you want.
But it's not just about technical perfection at My Gay Boss, there is the sex as well. And you've got some horny duos here, plus threesomes, some great chemistry, and a fair smattering of older with younger models. Whether you find the office fantasy a turn on or not (and most scenes take place in an office) you should certainly have no trouble getting off with these perfect scenes.
But now you need to start adding on your extras so that your value builds up. You've got those other two sites I mentioned, where their content is exclusive, and all the images that go with these movies, you've got the interviews that are included in your main content count, and you have a set of bonus, non-exclusive videos from various feed sites. Then you have hundreds of videos from the GayLife Network that you can also access, plus over 700 in the Boy Crush network that comes with your membership.
Bottom Line:
So, there are only 51 My Boss Is Gay scenes so far, and some are interviews, but more are being added regularly. And this is only a drop in the ocean of included porn that you swim in when you sign up, so you've got great value for money from Phoenixxx with this membership. Watch out for possibly limited viewing in any trial access you go for; if I were you I'd go straight for a full membership, you will need it to see everything on offer, and you are definitely going to want to see everything here.
VISIT My Gay Boss NOW!
VISIT My Gay Boss NOW!