Jocks Studios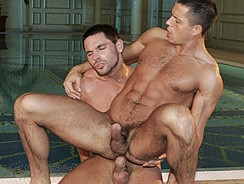 JUB Site Rating:
1 total vote





Jocks Studios's Billing & Pricing
Jocks Studios's primary billing processor: Paycom
$2.95 for three day trial
$29.95 per month recurring
$69.95 for 90 days recurring
$199.00 for one year
VISIT Jocks Studios NOW!
You can probably guess from the name of the site that it's all about fit and toned guys at Jock Studios. Here you have a large collection of original movies with some of the fittest guys around. There are amateur men here and some known names, you've got a good company behind it all, so the site is safe and secure, and you get what is promised on the tour. Actually the tour is more or less identical to the members' area, so you can see what you are going to get before you pay out.
Once inside, you should find no trouble with your navigating. You start off with a home page showing the recent updates, and a top menu that will take you to the other areas of the site. Clicking into Scenes brings you to the 12 most recent ones, and there's a link to go to the full collection at the top of the page. Browsing all the latest updates I found 468 dating back to the start of the site, I guess. I say it that way as I didn't see upload dates, so I am not sure if the site has been around a long time (the first scene did look old somehow) or whether it is just old content. The first scene, I assume the oldest, came with a choice of 240p and 480p for streaming, and a photo set of three images. The most recent scene also had only the same viewing options and you can only stream the movies here, there are no downloads. Make sure you get a full membership as then you should also be able to find a larger quality option.
There were 1,152 photo sets when I called in, but they didn't hold that many images; I'd say 10 was a rough average per set. The quality is fine though, and most of these images, if not all, are high resolution. I found sizes of 1,280 x 1,920 and the images were digital, good quality stills.
The other area to explore in your menu is The Jocks, which is a model index. There were 598 jocks when I looked through it, and these guys come with good sample pics, links to their appearances and a rate. When you are in Jock Studios you are able to rate the content as you go through it, and you can see the results on the index pages for the videos and the guys. That's about it for interactive options though, but the site is available in a choice of languages, there is an add to favourites function and area, and a page of 'settings' which, in my case, listed some bonus sites to go. And as for other extras and things to do, there's a page where you 'meet the men' well, 20 of them. These are neat little interviews and anecdotes from some of the horny jocks who appear on the site, some are set over examples of their movies too.
There is also the live show area and this is included in your membership. I only had one day to wait before I was able to see Tom Wolfe in action live on my screen, and there is a countdown to tell you how long to go until the next show. On this page there was also a link to the live show archive, but no archived movies were available.
Bottom Line:
Behind all this neat presentation, interviews, live shows and extras, are the jocks and they are the reason that you sign up for Jock Studios in the first place. You have a good collection of totally dreamy, fit and toned guys, many of whom are young, but certainly out of twink school. You have a heady mix then of good looks, hard bodies, hard cocks, solo and action movies and even some group scenes. You can only stream, but there is a quality choice, and the site does update regularly.
VISIT Jocks Studios NOW!
VISIT Jocks Studios NOW!