The Gay Office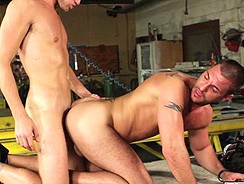 JUB Site Rating:
0 total vote





The Gay Office's Billing & Pricing
The Gay Office's primary billing processor: Paycom
The Gay Office's optional billing processor(s): Paycom E.u
€1.00 for a one day trial
€25.00 per month
€60.00 for three months
€99.96 for 12 months
VISIT The Gay Office NOW!
Ever wanted to ball your boss, or jerk the junior? Got a thing for sex in suits? Well then, it looks like The Gay Office is going to be the site for you. Here you have all your office fantasies played out by some of the best suited hunks in the biz. These are exclusive scenes made for the network Men.com and as a member of this site you also get to access their three others. The Gay Office is one of the more recent sites and so not the biggest of the bunch, with only 27 themed scenes so far, but it is uploading a new one each week, and there are over 200 exclusive scenes included with your membership.
Start off at the home page where you find good sample shots of the scenes, and these come with upload dates and some basic details. You will see that there has been one new scene added each week, without fail. Other sites also update and some more frequently so you are always going to have something new to watch when you sign in here. You can also go straight to the full collection of scenes from the network by using the top menu. And while you are exploring up there you can also get to a good model index, a list of all four sites you are able to access, and the bonus material.
But when you actually come to view a The Gay Office scene, you're going to be impressed by many things. It sounds daft to say it, but these scenes are actually filmed in offices. You'd be surprised what a difference a good, realistic set makes. And then they are filmed with some top porn stars and really good actors. And if you think your favourite star looks good naked, you should see him in a suit and tie. Woof! Then you have good filming techniques and storylines, build-ups to the erotica, believable characters and good sound.
You also get well looked after with viewing options here as there are three qualities of stream to start you off. I found even the lowest one was fine to view, though I couldn't go full screen. There is a cinema function where the rest of the page goes dark if you want it to, and you also have three download choices too. These include 1080p versions, the full scene or clips from it. Whichever way you get to a scene I don't think you are going to have any complaints. This is top quality entertainment and it stays right on niche.
You won't find any image galleries here so this isn't a site or network for picture collectors, but you will find a model index of 152 hot and varied guys. They are each shown with a good sample image and when you click this you get to their stats and work page with links off to their videos. As you go through you can rate them, as you can with the videos, but there are no comments facilities. Not to worry, if you want more things to do and see then check out the other three bonus sites and the 4,500 plus non-exclusive video clips that are varied in length, quality and subject matter. You are not going to be bored in this office, that's for sure.
Bottom Line:
The Gay Office gives you a growing number of well made, well put together and downright horny office sex fantasies, with a new one coming along each week. It lets you stream and download the exclusive movies, which are all of a decent run time and there are choices of resolution. You also get access to three other exclusive sites and a lot of extra movies when you join, so you're getting great value for money and a membership is not going to dig deep into your wage packet.
VISIT The Gay Office NOW!
VISIT The Gay Office NOW!