Man Of Muscle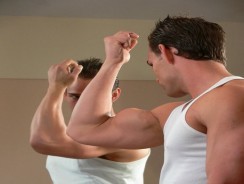 JUB Site Rating:
0 total vote





Man Of Muscle's Billing & Pricing
Man Of Muscle's primary billing processor: Ccbill
$19.95 -- 30 days
$49.95 - 90 days
$89.00 - 6 months
VISIT Man Of Muscle NOW!
Wishing those body builder magazines contained video so you could actually watch muscles as they come alive, with biceps slowly rising to their peak, the camera capturing every ripple as tendons and flesh flex and flow across the male form? Well now you can have that, and more, at Man of Muscle.
If you're a real fan of amateur and semi-pro bodybuilders you will absolutely love Man of Muscle'm refreshing look at the men who have devoted themselves to the pursuit of hard and muscular physiques. Sculpted and godlike bodies with bulging biceps and six-pac abs are captured in intimate detail from every angle in both video and hi res photos.
This is a non-nude site, and while the men are definitely hot and sexy looking, it isn't about sex - it'm about real men who work towards creating their own ultimate physical perfection. Man of Muscle has managed to get real amateur bodybuilders to agree to oil up and flex on camera, giving you a close-up view of muscles in motion. Some of the hottest muscle men in Southern California pose and work out in exclusive videos and pics that you can only see at Man of Muscle.
The site updates with a new video and a new set of images every week. Videos are downloadable in Windows Media format in dialup, low and hi broadband file sizes. Man of Muscle also includes free access to Guaranteed Muscle and The Fitness Gurus; two top-notch guides to helping anyone begin and maintain their own fitness program. The Man of Muscle crew is dedicated to bringing you real bodybuilder videos and galleries for enjoyment by real muscle fans.
VISIT Man Of Muscle NOW!
VISIT Man Of Muscle NOW!