Big Dicks At School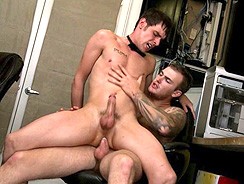 JUB Site Rating:
0 total vote





Big Dicks At School's Billing & Pricing
Big Dicks At School's primary billing processor: Paycom
Big Dicks At School's optional billing processor(s): Paycom E.u
€1.00 for a one day trial
€25.00 per month
€60.00 for three months
€99.96 for 12 months
VISIT Big Dicks At School NOW!
Big Dicks at School is one of four sites that come with a membership to Men.com. Or you could say that Men.com sites come free with access to Big Dicks at... You see what I mean. There are four exclusive sites for the price of one on offer here and this is all about the one that deals with sex in the classroom.
But don't start thinking that this is one of those dodgy sites made in the wilds of Siberia, featuring really spotty twinks who don't really want to be doing what they are being paid to be doing. Oh no sir. Sit up and pay attention at the back there, as this site is going to hit you right in the curriculum.
To start with, you've got a good company behind it and so your quality and satisfaction are assured. Then you have a fresh approach to the genre, the 'teaching naughty schoolboys' genre that is. These guys are tough and I don't just mean the teachers. Whereas some sites that cover teacher/pupil relations deal with older on younger in a tacky, obvious way, Big Dicks at School seems to prefer their 'schoolboys' to be of college age by the looks of them.
Yes, there are twinks here as bottom boys, but they also get to play top. There are also jocks and some of the teachers are hunks; at times it's hard to tell them apart from their students though. There are 64 scenes to look through at the moment and they are laid out on a home page with big sample shots and upload dates. You also get model's names here, with some inventive titles. You're able to organise the content in various ways, click through the numbered index pages, use the top menu to find the full model index, bonus scenes and links to other sites, and there is also a very handy drop-down involved so you can easily click across to other sites in the network.
Checking out one of the sexy scenes, and I really mean that, I found that I was able to give it a like when I'd seen it, and that I had stream and download options. These included three qualities of stream in an embedded player, plus the full movie in three qualities, from 480 to 1080p, and there were also clips involved as well. Each clip was around 80Mbs in size, so a full scene can be quite a large file to take. Well worth waiting for though as the visual and filming quality is perfect. The only downside with the clips is that you can't see what is happing in each one before you download; you simply get a list of part numbers, nothing visual to guide you.
I checked out the site for photos but didn't find any listed with the scenes. There are loads of sample shots though and these are all clear and good quality. And there are good body shots of the guys in the model index. You get some stats about each guy in this index to, so that's good news, and there are clear links to his videos, no matter what site they come from. There are 151 men in the model index and hey appear in all or any of the four sites your membership gives you access to. There are also bonus scenes which take the form of some 4,600 plus non-exclusive streams.
Bottom Line:
The really neat thing about Big Dicks at School is that it uses hunks and jocks, tough twinks and really good looking guys of around the college boy age. It's not tacky, it's great quality, it's easy to use, there are good viewing options and loads of extras. It is not very interactive and there aren't galleries, as far as I can see, but it will fuel your classroom fantasies and brings you loads of hot guys in exclusive schoolroom hardcore.
VISIT Big Dicks At School NOW!
VISIT Big Dicks At School NOW!