Men.com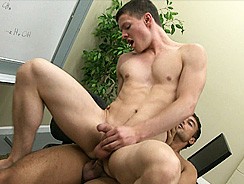 JUB Site Rating:
1 total vote





Men.com's Billing & Pricing
Men.com's primary billing processor: Paycom
Men.com's optional billing processor(s): Paycom E.u
€1.00 for a one day trial
€25.00 for one month
€60.00 for three months
€8.33 per month for 12 months at €99.96
VISIT Men.com NOW!
Men.com shows it like it is. It's about real guys, hard and tough, butch and horny who like to fuck, pure and simple. It's not twinky, it's not fetish, it's not gimmicky, it is simply good quality, hardcore, a collection of content from four sites with exclusive movies and stars. IT also comes with extras, it is not expensive to join and the quality is spot on. You want hardcore, good looking guys who fuck like experts? You want Men.
Phew, yeah, right, I like this site as you can probably tell. I like it and I've only just had a quick look around. I like the way it is set out and easy to use, I like the variety of content and locations for the hardcore, I like the variety of guys, the clarity of the visuals and sound, the download options and the stream choices. It's neat the way that the guys talk to the camera before the sex starts, you get to know them, I like the way you can select parts of download a whole scene, and I really like the way that the site is upfront with you about upload dates, who is who and what's new.
So, you are thinking, there must be something that I don't like. Er, no, not really. I guess if you have already got a membership to Big Dicks At School, Str8 To Gay, Drill My Hole or The Gay Office, then you've already seen this content. But if not, then what are you waiting for? Those four sites are what make up your collection here, and there were just under 200 scenes when I called in; remember that they are exclusive. They are all collected together under 'Scenes' in your main menu, but they are also set out according to their site in the 'Sites' area. You see, there is nothing complicated about Men. (Never thought I'd say that.)
So, I tested out a few scenes and this is what I found: consistent viewing pages, so navigation and technical matters are simple and easy to handle. There are good viewing options. There's a streaming screen and a choice for you of low, medium and high streaming though the viewing screen stays the same size whatever you select. Low quality at full screen was fine enough for me, though the higher the quality you can manage the better of course. But you can also download in Mpeg 4 formats in a choice of three qualities, and the filing and production quality remains good throughout. The streaming option also comes with 'cinema mode' which is neat; basically you select this and the rest of the page dims down around the screen. You have to supply your own popcorn though.
Checking the upload dates I noticed that scene were added on a daily basis, which is always good to see, and the coming soon movie was presented with a one minute trailer. You are able to sort the content in various ways making it even easier to get to what you want to see. If you are, like me, driven by looks, then you will want to check out the model index, the Pornstars area as it's called. Here there were 143 guys who you definitely would not kick out of bed. There were older, hairier, hunky guys with tattoos, though no one was over-muscled and over the top; there were younger guys who are jocks or who could at a push be classed as twinks, but about the twinkiest we got was Tyler Sweet. Each guy comes with a great body shot, each has a dick to die for, you get stats with links to his appearances and you can vote for each guy and add things to a favourites area.
As well as this exclusive content I found page after page of non-exclusive bonus scenes and a link to Juicy Boys by way of extras. I didn't find galleries though, did I miss them? There was a link to Live Shows that takes you to your standard upsell site with some free activity to be had. But actually I found I didn't need these extras. The main content here is hot enough, well made and satisfying. And with something new every day, you're never going to go hungry for hardcore again.
VISIT Men.com NOW!
VISIT Men.com NOW!