The Great Canadian Male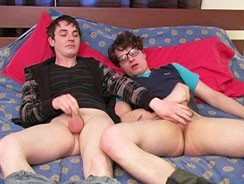 JUB Site Rating:
0 total vote





The Great Canadian Male's Billing & Pricing
The Great Canadian Male's primary billing processor: Ccbill
$24.95 for 30 days recurring at $19.95
$26.95 for 30 days, non-recurring
VISIT The Great Canadian Male NOW!
It's time for some hot, 100% amateur guy sex from Canada at The Great Canadian Male, a site that celebrates Canadian guys like no other. You can expect to find solo, duos, groups, you name it there is all kinds of sex offed at this site, and it is one that also promises us exclusive content, real first-timers and weekly updates. Signing up is easy and secure, so what do you find once you're a member?
Well, I found some very amateur looking guys, in natural and first time scenes. But before I got to them I found a site that has a simple design. It's red and white and there is lots of white. You can discover this for yourself if you click around the tour as what you see there is more or less what you get once you are inside. You find the most recent update featured, with a large image, and then the next, promised update with the date you need to tune back in to find it. To the left is the navigation menu and this will take you to the scenes, the blog and the support areas.
Galleries/Episodes was where I headed first and here I came across 24 thumbnails per page, and links to eight index pages. The strange thing was that page eight, when clicked, always took me to page four, as did the 'End' link for the last page, so I was only able to see and count 168 scenes. The basic premise is the same for each though; an amateur guy, often making his first appearance before a camera, sits and chats, gets interviewed, and then strips and jerks off, or gets involved with other guys. You click the link and there you go: the viewing page for the scene you have chosen.
You get some stats for the guys and a short write up, a set of images beneath the viewing screen and a message telling you to click the pic to start the stream. A new tab opens and a WMV file stars to play. The ones I sampled were at 15.Mbps @ 480 x 368 in size, and the buffering took a while to get started. I was also able to do a right click and save, though I wasn't instructed to. Quality is ok, the whole set up is amateur and comes across as such, but it doesn't stop your enjoyment. If anything it improves it.
There are a couple of downsides with the site; the movies are all full length and there are no clips, so you must stream or download the whole scene. The photos are all video caps and the quality is middle of the road. But on the up-side, the guys are all amateur and there is a lot of variety. You can check through the model index where you also get some basic stats, and where you find all kinds of guys. And they are not all chosen for their looks either, bless them. On one page of the five page model index there were guys aged between 18 and 45, and there were around 100 men to choose from, including slim twinks, alternative boys and older, heavier men. There are gay, bi, curious and straight men here and some make more than one video. All their links are in this model list and it's a neat way of choosing who you are going to spend some time with.
Bottom Line:
The Great Canadian Male celebrates men from Canada in all their varied glory. That's what is nice about it; it is varied, the men are real amateurs and come in all shapes and sizes. The quality is middling, the viewing options are basic and the pics are screen caps, but it works and it is not going to coast you a lot to join.
VISIT The Great Canadian Male NOW!
VISIT The Great Canadian Male NOW!