Brutal Tops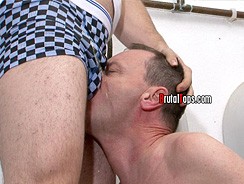 JUB Site Rating:
0 total vote





Brutal Tops's Billing & Pricing
Brutal Tops's primary billing processor: In House
$39.95 for one month
(A processing fee of $1.95 will be added to the subscription price.)
VISIT Brutal Tops NOW!
This site should come with a warning: it's not for the uninitiated, it's real, it's more than hard-hitting it's nasty at times, and it is Brutal Tops. Where other sites play at S&M, this one assures us that it does not. It tells us that these are 'Actual Domination Sessions filmed as they kick off,' and one look at just one of the exclusive movies is enough to convince you that that's perfectly true.
But there is more going on here than domination sessions. You can run down the site outline on the tour where you find the top guys are genuine soldiers, police and thugs, and the bottoms are all sex pigs who get off on being treated very badly. The sets are chosen for maximum discomfort for those bottom pigs, the pain is real and so is the spit and piss. Be warned that when you enter the tour the trailer starts automatically and if your sound is up too loud your neighbours may be phoning the cops within minutes.
But, all said and done; you know what you want and you've signed up. What can you expect to find? Well, there are currently 79 'sessions' promised online, and the promise of 346 videos and over 12,000 images. Something new comes along every Thursday too, so the site is growing week on week. Now, I don't know if they do his on purpose but I found it really tricky to find the members' entrance. You probably get straight to it after you've signed up, but when you come back to the tour next time and want to log in... I found it eventually through the 'see all previews' link towards the bottom of the tour page. And, thus feeling thoroughly and suitably humiliated, was able to sign in and bookmark the members' home page for easy access next time.
I kind of wished I hadn't. This stuff is hard and horrible, which is actually perfect because that is exactly what the site told us it would be. You are able to filter content by the Top guy, by the particular humiliation features in it or by the session itself, and there are drop-down lists for these. And yes, there were the promised 79 sessions when I called in. You get a decent write up with each one as these guys take their work seriously and then you find that movies are shown in a stream, with various download options including those for phones and iPads etc. There are interviews with the models before and after the shoots too so you get to hear what turns these guys on and what makes them tick. And then of course you get to watch the humiliations themselves:
Schoolboys getting revenge on teachers, medical equipment in use, BDSM, cock and ball torture, locker room humiliations, watersports, spanking, group sex, spitting, worse... Actually just go and look at that tour trailer and you will get the picture. But what you may not get from it is the fact that the movies are really genuine and have a nice reality spark to hem, the quality is good and the amateur guys are totally into what they are doing. As I said, one for the experts, or the curious. Add in the galleries with their many images (at good screen cap sizes that just about fill the screen), the interviews, the simple navigation and neat design, and also add on the fact that members can comment and let the site and other members know what they feel, and you've got an easy to use, though sometimes hard to view, members area here.
Bottom Line:
Definitely a site for the experienced fetish viewer, or one for anyone who wants to see and know what real cum pig and master action is all about. My advice is to check the tour and if you make it through the trailers then you'll be fine as a member.
VISIT Brutal Tops NOW!
VISIT Brutal Tops NOW!