Bound Jocks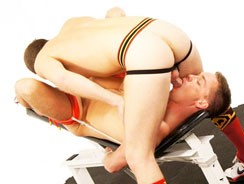 JUB Site Rating:
0 total vote





Bound Jocks's Billing & Pricing
Bound Jocks's primary billing processor: In House
$2.95 for a tree day trial, recurring
$29.95 for 30 days recurring
$68.95 for 90 days recurring
$199.99 for one year
VISIT Bound Jocks NOW!
What you see on the tour is what you get at Bound Jocks, so you can believe what you see. This is a site that deals with two things, BDSM and jocks, just like the title says. It takes hunky younger sporty guys, binds them up and then uses and abuses them to your heart's content. It stays with its niche, it gives you exclusive content and it always has good quality productions. Updates happen every week, and members get to access galleries, a blog, background information and a live show too.
So, has this site really got it all? Well, yes, basically. It certainly doesn't let you down and it keeps its tour promises, which means we are off to a good start. When you do start in on the members' area, you find that the most recent movie is featured top of the page, beneath the menu, with a large screen to watch it in. But you then have other recent updates sampled with a decent size photo, upload dates and links. You can also click straight to the background stuff if you want and meet the crew, or click to the photos, blogs and extras in the top menu. It is all neatly set out and presents no navigation problems.
Scenes are shown in a choice of formats: I found MP4 files in small and high formats plus 'web HD' at 540, which comes out in a size around 960 x 540. These were not downloads though, these were streaming only scenes, so the quality you can take will depend on your connection and how it handles the buffering. But, when it comes to overall quality, the movies are well filmed and lit, the sound is natural, and the guys are perfect. You certainly have more than your fair share of muscled young gods here. Good looking, fit and well put together, the site is not short on hunk material. And it doesn't stint you on the kink either with bondage laying a part in every scene, and some other fetish action creeping in to. I'm thinking here of the scenes with toys and machines, even the parts where the bound guy doesn't want to be bound, and the CBT.
The 35 movies are good and fine quality then, and so are the images, there were 33 galleries carrying nice quality images at 420 x 640 or 950 x 636, with top sized images clicking right up to 1,280 x 1,962, which is a bit unnecessary but where the quality remains fine.
But where Bound Jocks really excels is in its detail. You are told what equipment is used in each scene and although you could be sceptical and say this is just an excuse for a link to a shopping opportunity, it's still interesting to see. And also that detail carries on with the Basic Training department where you are shown the right and safe way to bind and tie. It's a bit like scouts training for bondage queens I guess, but very handy for newbies and anyone with an interest in the fetish.
You're also able to keep right up to date with what's going on via the blog and there is a link in your main menu. Then, as a member, you get to click into the live shows. There is a countdown telling you when the next show will be and there are star names performing here. Exclusive, Next Door models Marcus Mojo and Rod Daily were both appearing on the day of my visit. There is a show promised every day of the week, and a link to a third party live show site for while you are waiting.
Bottom Line:
The bottom line with Bound Jocks is that you get a perfect blend of BDSM, smooth and hunky jocks, kinky sex and quality. You also get some extras which give good value for money and the site does not let you down.
VISIT Bound Jocks NOW!
VISIT Bound Jocks NOW!