Men At Play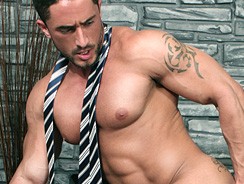 JUB Site Rating:
3 total vote





Men At Play's Billing & Pricing
Men At Play's primary billing processor: Ccbill
$24.95 USD - 30 Days
After 3 months price falls to $19.95
$61.95 USD - 90 Days
VISIT Men At Play NOW!
This is a site for anyone who likes men. Well, we all like men! Dur! But these men are real men... I mean they are hunky, grown-up, non-twink, sexy, toned and muscled men but not bodybuilders. They are the kind who wear suits and go to work in offices, maybe they are part-time firemen or lifeguards, they go to the gym, they have those perfect cocks that real men have, and they love to play hard and dirty. There's something special about Men At Play and it's hard to put your finger on it, well, it would be very hard if you put your fingers around it and pulled a little.
What you've got here is a special site that features guys in their thirties and forties, he says, guessing, and who are all perfect specimens of manhood. But it doesn't just stop at well taken photos and well made videos featuring such perfect guys. There are various categories of movies to view, there are solos and hardcore, ass-rimming and jerking off, anal and oral scenes, and plenty of guys in suits.
And it's all laid out in a very easy to use and interactive way. Choose your ideal guy from the six pages of model index, view his chest and his face pic and then click to find his content. You will get a few stats and a bit of information, you can add him to your favorites area or become a fan, then you can click over to his movies or galleries and rate everything that you see. As a member you are also able to comment on the movies and make your views known. All good and standard interactive options, but what about quality?
Well, you have Flash streams and two kinds of download for the movies with good resolutions for both; the sound and visuals are clear and the photography is very professional. I should point out that these are exclusive movies and come from a top studio, so no worries there. The images are big and clear and digital too. And there are lots of them. I mean there are over 110 hardcore movies, all of a good length, and nearly 100 solos already, and Men At Play updates regularly, every few days, so more hot content is coming along as we speak. The same goes for the galleries. There are some bonus movies in the extras area too, so all in all you've got loads to view here and it's tops for quality. And it all features those sexy, slightly older guys.
Things get even more interesting when you click into the Community area and find that you can add your own profile, chat to other members, upload your own videos and pictures, and join in with a networking site that's horny and exclusive. You don't find this kind of interactive option on many sites and it's a great place to hang out. It's kind of the icing on an already very well iced cake and, like everything else here, it's well designed and well put together, easy to navigate and professional. To get 100% involved you can even apply to be a model; but if that's not your thing it doesn't matter, the guys will be and you can simply check back to the home page to see when more are coming along.
Bottom Line:
The perfect place to come for horny, slightly older men in and out of suits. Great quality, loads of content, very regular updates, and some top class interactive options for members. This should be your one and only place for 'real' men.
VISIT Men At Play NOW!
VISIT Men At Play NOW!