Project City Bus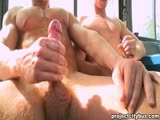 JUB Site Rating:
0 total vote





Project City Bus's Billing & Pricing
Project City Bus's primary billing processor: 2000 Charge
$4.95 for a two day trial
$29.95 for one month recurring
$95.40 for 12 months
VISIT Project City Bus NOW!


Someone, at some point in time, thought that sex in a car, bus, van or whatever was more thrilling than anywhere else and started putting these kinds of sites together. Yes, there is something fun about seeing cars drive past while two guys are fucking, but that part of the gimmick wears off after a while. So what we really need, to keep us hooked, are good looking and cute guys, hot sex scenes, originality and exclusive content. We could also do with images and info and ways to get involved and, these days, we're looking for value too.

Well, once inside Project City Bus and in the members' area, you're going to find only eight episodes; the site started in October of this year and added six scenes that month and only two the next, and none since. Maybe the bus is in the garage for repairs. And when you watch a scene you are going to find that you can stream and download, there are trailers and choices of formats and qualities. You get well looked after in this department with MP4 files, WMV and mobile versions, full scene downloads and chapters to stream and download too. The thing that came across from watching the movies here, for me, was the sense of fun. It's all very laid back and jolly to start with and the bus isn't too cramped, so you don't feel claustrophobic. The guys picked off the street go willingly into the bus, and then the driver takes them around while two guys get it on. The filming is fine, the sound is good and natural and it all works in that respect. My only problem is that there isn't much of it yet; and it is a theme that's been done before.

But all is not lost: When you sign up and log in you first come to a kind of portal page; you will see access to Project City Bus but there is also a way to get in to the Big Daddy network of 10 sites, and then entrance to 'Gay DVD Pack' which is a DVD library of gay porn films that you can watch. I noticed that you can also access the bonuses from inside your main site, so you're always going to find them no matter where you are. In fact, when you click 'home' to get to this portal page and when you click 'episodes' you find all the recent scenes from all the sites. These sites cover subjects such as hazing parties, with lots of college boy sex, outdoor sex, massages, ebony and interracial sex and glory holes. Each site has exclusive content, they all navigate and work in the same way, you can search, like, and add to favourites, watch in HD (in many cases), see what's tops and what's new and move between all these sites very easily.

So I'd have to say that the content at Project City Bus is decent quality and there are no problems with viewing choices or navigation. It's exclusive too though the subject has been done many times before, and the site is still very small (hence our low score). But you do get a generous helping of extras and bonuses, and thus good value. Worth getting on board? As long as the updates get back on schedule then yes, buy a ticket.
VISIT Project City Bus NOW!
VISIT Project City Bus NOW!