Bareback Box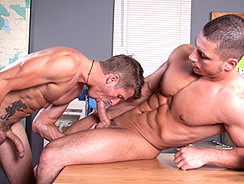 JUB Site Rating:
0 total vote





Bareback Box's Billing & Pricing
Bareback Box's primary billing processor: In House
Free trial = 10 minutes of viewing
$9.95 per month = .10c per minute
$19.95 per month = .7c per minute
$29.95 per month = .5c per minute
$39.95 per month = unlimited viewing
VISIT Bareback Box NOW!
There are 310 full length DVDs at the Bareback Box, at present, and, with each one being made up of various numbers of scenes, you've got a lot of viewing ahead of you. This is a pay as you go site, with various payment options including a full membership, recurring per month and no extra pay as you view cost. Which might sound a bit confusing but take a moment to work out how the payment plans work and you will see that it is actually quite nicely priced.
So, for bareback specialists this is a handy site to have saved in your favourites, as you can click in any time you want, use some of your credits to get off to a scene with and then leave it alone until you want to see it again. There is no money ticking away while you are not viewing. It is also pretty easy to use, with a list of categories on the left (click the 'see more' button to bring up the full list), and a search box to use to help you filter down to what you want to see. If you know an actor's name you can search and see if he makes appearances here, and you can do the same with studios. There are some top names here, such as SX Video, Hot Desert Knights and Dick Wadd Media, and all you need do is click a studio name to see a list of all DVDs presented by them.
So, you've found a title and you've seen the box shot; now all you need do is click it to see what scenes it has. A small word of caution here is that the stream starts as soon as the viewing page opens and that means your time could be counting down right away. Movies come with a small set of images which act as a guide to the action, and these are further down each page so you can have a quick look, see if this movie is going to be the one you want to see, and then you can start the stream. But these are full DVDs and so there is more than one scene per offering. Trouble is, there is no set up to show you individual scenes, you get the whole thing and some are over two hours in length. But what you do have is a slider of thumbnails beneath the stream screen and you can scroll through this to see how the action progresses; simply click a thumbnail to start the stream from that point.
And as for quality: well, this can vary as it will depend on the age of the film, and the studio perhaps. But you do have a choice of resolution. These are not all high definition movies, but the resolutions do go up to 1536 kbps, with smaller choices available too, down to 256 kbps. Full screen may produce some pixelated results depending on what you have chosen to view, and the original screen size remains the same no matter what you select. The site comes with an auto-detect function whereby the technical wizard who lives within the streaming player works out your connection speed and then fits you up with the most compatible resolution, allegedly. You can always change it.
And as for the action: well, it is what you would expect. These are bareback movies, some are older than others, there are all kinds of guys involved, from amateurs to porn stars, from Americans to Europeans, mainly white and with some Latino, and there is also a fair smattering of S&M scenes, some BDSM and CBT too. You've got younger guys, straight boys, older men, bears and cum-pig-pugs depending on the studio and the film, so expect variety within your condom-free entertainment.
You've also got links to help and support, and to your account so you can find out what plan you are on, update it and add more credits if you need to. Read the terms and conditions to get the full picture.
Basically, Bareback Box is a pay to view theatre that's all about bareback sex from a variety of studios. You've got a choice of viewing options, though it is streaming only, and you have a decent stock of movies to get you started.
Safe Sex Notice:
This gallery contains images of unsafe sex practices, also known as barebacking. Engaging in sexual practices without the use of a condom is a risky and unnecessary behavior. There are a lot of studios including the one listed on this page that film bareback or have bareback scenes in their content libraries. The images presented below should only be used for fantasy and you should not deceive yourself into thinking that "everyone is doing it." Further, you should not assume that just because you see photos or film content of barebacking that sexually transmitted diseases have been miraculously cured. HIV and other sexually transmitted diseases are very real and potentially lethal. Please practice safe sex in your own life and educate yourself regarding the dangers of not wearing a condom before having sexual encounters. Visit AMFAR for more information about safer sex.
VISIT Bareback Box NOW!
VISIT Bareback Box NOW!