Raw And Rough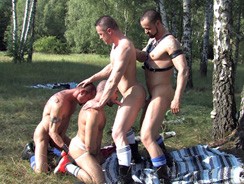 JUB Site Rating:
0 total vote





Raw And Rough's Billing & Pricing
Raw And Rough's primary billing processor: 2000 Charge
$24.95 a month recurring
$63.75 for three months non-recurring
VISIT Raw And Rough NOW!
Dick Wadd is the guy behind Raw and Rough and he is promising us a new site that's all about pissing, rough pigs, fisting, and the hottest bareback scenes around. He also tells us there are weekly updates and that it's all exclusive. The sign up deals are simple and not over the top and it's easy to get yourself a membership. And, when you have, this is what you can expect to find:
A members' area that looks exactly the same as the tour. I like these 'transparent' tours as they show you what you are paying for and Raw and Rough does just that. The update dates are published with the recent videos, their write ups and sample pics, and you can see that updates are happening as promised, every week. You can also see that you have at least 10 pages of content starting at your home page and each page has five scenes shown on it. Actually there were 13 pages, making a total of 62 scenes and, as the first one was only dated three months ago, it looks like the site really hit the ground running and with a large stock of movies.
Movies are shown in a streaming player where you have an auto-detect function. This will choose the best resolution for your connection speed. Don't ask me how it does that but it does, and it does it well. But you can also choose to go lower, down to 256 kbps or higher up to 1536 kbps, it's up to you. I found that the mid-range version was ok at full screen though there was some minor pixilation happening, the sound was fine and the visuals generally clear; depends on your connection of course. You can click through the movies if you want, there's a slider of thumbnail images beneath the streaming screen so you can jump around. There are no clips and no downloads though, so you've only got the streams to use. And this screen stays at the same size no matter what resolution you chose.
I also noticed that a lot of the films stared straight in with the action, like someone had cut out the introductions, the build ups and any potential storylines. That's not really a great problem as we're not here for stories, and the movies still run for around 30 minutes each. You get straight in to the hardcore when the streams start (depending on the film of course). And what action you get! This is certainly hardcore stuff and not of the uninitiated. Fisting with arms in deep, stretched wide assholes so much so that you get the full rosebud effect, and more: Pissing scenes aplenty, slings and slapping, bareback and ass play you won't believe. And all shot in good quality formats, up close, with realistic performances and sound.
And the guys that get involved are the kinds of guys you would expect: tattooed cum and cock pigs who like their fetish action, hairy bears, muscled studs with tight bodies, experts at anal action, and some amateur looking non-porn star guys too, in fact most of these guys are the kinds of men you would find down at your local leather and S&M club.
The movies are what drive Raw and Rough and you don't actually have very much else apart from movies. There are images per scene but these don't enlarge and are a guide to the action only; there are search options in the left column and a long category list to use as a filter; and there is a model index of names but these are links only. Help and support is there if you need it and you can always check the status of your account making it very easy to cancel if you really want to.
But, bottom line: new and exciting fetish action, definitely hard and exactly as advertised, not expensive and being updated each week. Raw and Rough delivers and it delivers hard.
Safe Sex Notice:
This gallery contains images of unsafe sex practices, also known as barebacking. Engaging in sexual practices without the use of a condom is a risky and unnecessary behavior. There are a lot of studios including the one listed on this page that film bareback or have bareback scenes in their content libraries. The images presented below should only be used for fantasy and you should not deceive yourself into thinking that "everyone is doing it." Further, you should not assume that just because you see photos or film content of barebacking that sexually transmitted diseases have been miraculously cured. HIV and other sexually transmitted diseases are very real and potentially lethal. Please practice safe sex in your own life and educate yourself regarding the dangers of not wearing a condom before having sexual encounters. Visit AMFAR for more information about safer sex.
VISIT Raw And Rough NOW!
VISIT Raw And Rough NOW!